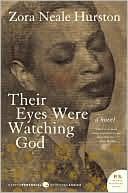 Zora Neale Hurston was born on this day in 1891. Though now sometimes reduced to a personality or a few famous quotations, Hurston was an important writer in the Harlem Renaissance movement. She was criticized by some for exploiting or pandering to racism — in the novel Their Eyes Were Watching God, for example, which Richard Wright described as a "minstrel-show turn that makes the white folks laugh." Others have defended Hurston by pointing to her need to make a living, or to the darker themes conveyed by her stereotypes. The excerpt below is from "Lawing and Jawing," a 1931 dramatic sketch that describes the sort of justice handed down in "Way Cross, Georgia" by the moody Judge Dunfumy. A ladies' man, the Judge spends more time flirting with a pretty girl in the front row than deliberating the case of domestic violence before him:
JUDGE. Did you git cut in de fracas?
WOMAN. (feeling the back of her left thigh below her buttocks) Not in de fracas, Judge — just below it. (She starts to show the JUDGE where she has been cut. He motions to stop her.)
JUDGE. Stop! (to Officer Simpson) Grab him. Put him in de shade.
CLIFF. Judge, I'm unguilty! I ain't laid de weight of my hand on her in malice. You got me 'cused of murder and I ain't harmed a child.
JUDGE. Lemme ast you something. Didn't you know dat all de women in dis town belongs to me? Beat my women and I'll stuff you in jail. 90 years. Take 'im away.
Twenty years later Hurston reported the sensational Ruby McCollum murder trial, a tragic version of the above, for the Pittsburgh Courier. McCollum had murdered a prominent local doctor and senator in Live Oak, Florida, a man with whom she was having, or coerced into having, an affair. In her newspaper reports, Hurston railed at the "cracker" judge, and against "paramour rights" — the impunity granted any white man wishing a black concubine — a term she had coined when writing earlier about Florida's turpentine camps.

Hurston's involvement in the McCollum case is discussed in detail in Zora Neale Hurston's Final Decade (Virginia Lynn Moylan, 2011) and in Zora Hurston and the Strange Case of Ruby McCollum (C. Arthur Ellis, 2009). The case is also the subject of an upcoming movie produced by Springtree Studios.
---
Daybook is contributed by Steve King, who teaches in the English Department of Memorial University in St. John's, Newfoundland. His literary daybook began as a radio series syndicated nationally in Canada. He can be found online at todayinliterature.com.