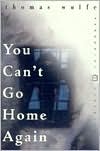 September 18: On this day in 1940 Thomas Wolfe's You Can't Go Home Again was published, two years and three days after his death from tubercular meningitis at the age of thirty-seven. Earlier novels in his four-book, autobiographical series included the best-selling Look Homeward Angel, and the lesser-known middle books, Of Time and the River and The Web and the Rock. Wolfe's legendary style of writing, like that of his life, was flowing and impassioned, and an editor's worst nightmare. The first two books in the series were reworked by Wolfe under advisement from Max Perkins at Scribner's; the last two (and a collection of short stores, The Hills Beyond) were culled by Harper's editor Edward Aswell from the mammoth manuscript which Wolfe left behind in jumbled piles and boxes—some 1.5 million words, about a dozen novels of ordinary length.
Wolfe's double impulse to world-wandering and self-chronicling was cast as a mission from start to premature finish. "I know this now," he wrote in a long letter-mission statement sent home to his mother from Harvard in 1923:
I am inevitable, I sincerely believe. The only thing that can stop me now is insanity, disease or death. …God is not Always in His Heaven, All is not always right with the world. It is not all bad, but it is not all good, it is not all ugly, but it is not all beautiful, it is life, life, life—the only thing that matters. It is savage, cruel, kind, noble, passionate, selfish, generous, stupid, ugly, beautiful, painful, joyous— it is all these, and more, and its all these I want to know, and By God, I shall…. And I intend to wreak out my soul on people and express it all. This is what my life means to me: I am at the mercy of this thing and I will do it or die…. I will go everywhere and see everything. I will meet all the people I can. I will think all the thoughts, feel all the emotions I am able, and I will write, write, write….
---
---
Daybook is contributed by Steve King, who teaches in the English Department of Memorial University in St. John's, Newfoundland. His literary daybook began as a radio series syndicated nationally in Canada. He can be found online at todayinliterature.com.