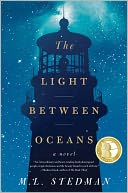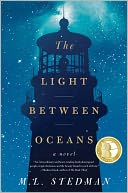 Dear Reader,
We're terrifically excited about our next B&N Recommends selection, M. L. Stedman's assured debut, The Light Between Oceans (on sale 7/31/12). Stedman's compelling characters and emotionally resonant, nonjudgmental narrative will appeal to fans of Kim Edwards' The Memory Keeper's Daughter and Ian McEwan's Antonement.
Tom Sherbourne, a decorated veteran of WWI, returns to Australia in 1918 to take a job as the lighthouse keeper on remote Janus Rock. To this isolated island, where the supply boat comes only 4 times a year and shore leaves are granted every two years at best, Tom brings his young wife, Isabel. Years later, a boat washes ashore, and in it are the body of a man, and a living baby girl. Tom wants to report the dead man and the baby immediately, but the grieving, childless Isabel convinces him — against his better instincts — that they should claim the baby and raise her as their own. The story comes to a head when they return to the mainland with a now-two-year-old Lucy, and are reminded that there are other people in the world — one of whom is desperate to find her daughter.
M. L. Stedman discusses the romance and metaphor of lighthouses, impossible choices, and cultivating compassion with Tess Taylor.
Q: The opening sequence of your book captures the solitary beauty of living on a lighthouse and looking back to land. When I read the sequences of months passing and Tom, the lightkeeper, waiting for news, I thought of To The Lighthouse,a book where, paradoxically, we never meet the lightkeeper everyone keeps setting out to see. Lighthouses play a special place in the literary imagination. What drew you to this one?

M. L. Stedman: When I write I just let a picture or a phrase float into awareness, and follow where it leads. For this story, a lighthouse was the very first thing that came to me. I closed my eyes, and there it was: solid and mysterious and the instigating image of a tale about which at that point I knew nothing at all. I was curious to find out more, so I kept writing.

Of course the people I discovered at the lighthouse — Tom and Isabel — drew me into their lives, and the dilemma they face as they try to stay true to their love, yet true to themselves and their own sense of right and wrong.

To answer the other part of your question — yes, lighthouses seem to attract writers, perhaps because they automatically betoken the drama of journey and of risk. Wherever you see a lighthouse, there's something at stake, which is great territory for fiction.

As I worked on the book, I discovered that they appeal not only to writers, but to just about everyone. When you mention lighthouses, people generally get a gleam in their eye and lean in a little. They're an archetype that gives people freedom to imagine, and freedom to explore the human condition stripped down to its very essence. They represent the ultimate unfair yet heroic struggle: man's fight against the forces of nature, with its hidden hazards and infinite power. And they're a fulcrum: between safety and danger, light and dark, journey and stasis, communication and isolation, on which our imagination can — has to — pivot, because they're not just one or the other.

Q: Some of your writing about lighthouses shows a great deal of research into their intricacies, like the way that they use small amounts of light to illuminate great distances; or the way that they shine over the edge of the earth without actually lighting up what's most directly below them. Did you do a great deal of technical research into lighthouses? While writing, did you go on special lighthouse expeditions?

M. L. Stedman: Yes, and yes. I found the technical research so fascinating that it became addictive: lighthouses bring together so many aspects of science and technology, as well as maritime and social history. At their core, they're instruments of commerce — tools that made shipping sufficiently safe for voyages to be commercially viable. My research traversed everything from the history of glass-making to the physics of light to the early engineering of automation, and the development of communication methods from signaling with flags to Morse code.

I read some of the old catalogues and instruction books of Chance Brothers (lighthouse manufacturers) in the British Library. In the Australian National Archives, I trawled the lightkeepers' correspondence files as well as the meticulously kept logbooks from the era. It gave me shivers to think that the leather-bound volumes in my hands were written by men long-dead, who could never have imagined how touched by their words I would be almost a century later. And yes, I did go climbing up lighthouses in the south-west of Western Australia, near where the novel is set. Standing on the gallery of the lighthouse at Cape Leeuwin with the wind howling around me gave me a visceral sense of setting.

Q: A great deal of your novel is about separations and long distances — people, who, for one reason or another have been wrenched from one another. Did the way that lighthouses work seem to be a kind of central or touchstone metaphor for the way you depict human relationships?

M. L. Stedman: Yes, I found it to be an incredibly rich metaphor for what the characters experience, especially Tom and Isabel. For a start, there's light and shadow, especially in the Jungian sense of the shadow side of human nature, and questions about what the characters suppress or disown. Importantly, lighthouses don't move. They are dependable, efficient and concerned with others' safety. I see Tom as the lighthouse and Isabel as the mercury that allows him to move whilst staying anchored. Looking at a lighthouse at night, we can only see a light — we can't tell what's going on inside it or even see the structure that supports it. We're oblivious to its inner nature. And the lighthouse cannot illuminate the space closest to it: its light is only for others. The one person Tom can't save is himself.

Like most lighthouses, the Janus light rotates, to give it a unique 'character' by going dark then returning a few seconds later. You can only identify it by looking at the whole pattern, not just the light or the dark in isolation. In life, too, it's important to take people as a whole, not just focus on flaws or moments of weakness. There's something, too, about having faith, in the moments it's obscured, that the light will come back, and Tom tries to keep faith that he will see Isabel again, even when she's lost in darkness in the latter part of the book.

I also see a parallel between the lantern lens and the characters' actions. The light is a tiny flame that is magnified and reaches far beyond what the lightkeeper can see. Similarly, Tom and Isabel's initial decision about the baby is the act of a moment that goes on to have consequences beyond their imagining. Sometimes, events turn our insignificant deeds into grave turning points in life.




Q: This novel is set against the backdrop of the aftermath World War I, and understanding the losses that everyone touched by that war has suffered — which is to say everyone — is critical. The war touches each character differently, but they each reflect facets of the greater loss. When did you know that this story would be set at that time? Did the lighthouse and the war emerge together in your mind? How did you find yourself imagining them?

M. L. Stedman: When the lighthouse first turned up, I knew that I was seeing something a long time ago, but I didn't know exactly when. Once I saw Tom, the lightkeeper, I knew that he had opted for life "on the Lights" to get away from trauma, and that that trauma was the Great War. I only found out later, speaking to an archivist in the Australian Archives, that this happened frequently: many returned soldiers sought the solitude that life as a lightkeeper offered: they no longer knew how to function in civilization. The more I read the stories of Australian WWI soldiers, the more I understood the sort of man who volunteered for war, and the impact it had on him.




Q: You write very movingly about the desire to parent and of an impossible set of choices faced by two sets of parents and the losses each sustains. Do you feel that your characters are served justice in the end?

M. L. Stedman: I don't want to give much away about how the story ends, so I'll just say that the question of what constitutes justice is central to the book, particularly because following the rules and following the heart will each cause dreadful suffering. I hope I've done justice to my characters, in that I've tried to let readers see why each of them does what they do, and how the world looks to them. I think that to understand another's life is to find some measure of compassion for them.

Q: Here at Barnes & Noble, we're always on the lookout for great emerging writers. Is there anyone you're reading these days who moves you? Would you give us a few recommendations for this summer's reading?

M. L. Stedman: Perhaps any writer a reader hasn't encountered before qualifies as an 'emerging writer' for that reader. So thinking of books that move me and that I'd recommend, here's a random selection. Gilead, by Marilyn Robinson, is a beautiful study of late love and human frailty. Ethan Frome, Edith Wharton's novella, is a masterpiece in miniature, which packs so much longing and anguish and guilt into such a small space. And of course, To Kill a Mockingbird is always a life-affirming read. On the short fiction side, a recent debut I loved was Hot Kitchen Snow, a collection by English writer Susannah Rickards, filled with poignant, beautifully written stories.
Cheers, Miwa
---

Miwa Messer is the Director of the Barnes & Noble Discover Great New Writers program, which was established in 1990 to highlight works of exceptional literary quality that might otherwise be overlooked in a crowded book marketplace. Titles chosen for the program are handpicked by a select group of our booksellers four times a year. Click here for submission guidelines.