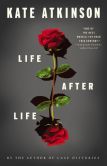 Kate Atkinson has dazzled readers since her debut, the Whitbread prize winning Behind the Scenes at the Museum, a long-time favorite of book groups. Her Jackson Brodie series of novels — beginning with Case Histories
and running up to When Will There Be Good News? — have earned accolades from countless readers and critics, including Stephen King, who said, "As a reader I was charmed. As a novelist, I was staggered by Atkinson's narrative wizardry."
Our booksellers can't stop talking about Life After Life, Atkinson's expansive and deeply compelling new novel (on sale 4/2/13), our next B&N Recommends selection. They're not alone; bestselling author Gillian Flynn says, "Kate Atkinson is a marvel. They're aren't enough breathless adjectives to describe Life After Life. Dazzling, witty, moving, joyful, mournful, profound. Wildly inventive, deeply felt. Hilarious. Humane. Simply put: it's one of the bext novels I've read this century."
Life After Life is a novel that calls out to be read over and over, and we hope you enjoy it as much as we did.
Interview by Tess Taylor


This book traces the life of Ursula Todd, a woman who lives many times. But each time she lives, her life begins in 1910. What drew you to this time period? What about this particular generation seemed remarkable to you?

I don't think I started by thinking in terms of this generation being remarkable particularly, although I thought that more as I went on and read more about the war. I think they were very stoical in a way that perhaps we are not, they just got on with things, which was a pretty handy trait to have to get you through a war. I had never intended to write so much about the period before the war but then I got caught up in the atmosphere and the language and exploring how Ursula – and the rest of the Todds – came to be how they were. They might have flourished during the WWII but they were forged in the crucible of the 'Great War' and the years after.

As I just mentioned, Ursula lives many times. But unlike the way most people often think of reincarnation, Ursula lives her life as Ursula over and over, with the same family in the same house. What drew you to this version of living again?

I was trying to avoid 'reincarnation' it didn't feel right and I've always been attracted by the 'Groundhog Day' structure (for want of a better reference – but it's a good reference) and I used it to an extent in Human Croquet but always wanted to explore it more. I had thought to write a novel called 'Parallel Lives' (I still might) but I was surprised when I suddenly realised as I began to write that this was the right structure for this book.

As you decided the points in Ursula's life when the narrative would fork, did you have rules for yourself around what could or could not happen? How did you decide which events would be most significant?

No, I didn't have rules, only that she would improve in her understanding and knowledge and 'come into' her heroism. I always knew the book was working towards the Blitz as the fulcrum and Teddy's death would be the thing that changes everything for her.

Without giving the plot away too much, it's worth noting that in some ways Ursula lives radically divergent lives, but in other ways many characters and even events stay the same. How did you imagine narrative coherence across lifetimes?

I'm not sure what you mean by 'imagine' narrative coherence, it's more a case of wrestling with structure. I can hold a book very clearly in my mind, where everyone is, what's happening, so it's just a case of moving forward with it and instinctively adding those threads and echoes and whispers that tie everything together.

I couldn't help but notice that there were animal figurations that wove through the story: Ursula means bear, and there are also many rabbits, foxes and even wolves that show up at key points in her many lives. What drew you to these figures? What did you most hope to explore with them?

I don't think I was hoping or exploring anything with them. The fox is obviously important, Tod or Todd is an old English name for fox and Fuchs, Ursula's married name in German means fox. The fox is rather like a spirit animal for Ursula and Sylvie, Teddy to some extent. I always have a lot of animals and birds in my books, millions of dogs, I think they're as important as people in some ways.

At Barnes & Noble, we like to ask writers to give us some recommendations. What new authors have you discovered lately? Which books are moving you?

I've enjoyed The Fields and The Silent Wife but it takes a lot to move me. And let's add Telegraph Avenue and Billy Lynn's Long Half Time Walk to the list of recent recommendations.
Cheers, Miwa
---

Miwa Messer is the Director of the Barnes & Noble Discover Great New Writers program, which was established in 1990 to highlight works of exceptional literary quality that might otherwise be overlooked in a crowded book marketplace. Titles chosen for the program are handpicked by a select group of our booksellers four times a year. Click here for submission guidelines.