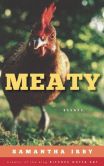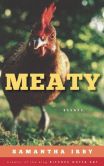 Dear Reader,
The Discover selection committee readers and I were bowled over by Samantha Irby's debut essay collection, Meaty (Discover Holiday '13). We still can't get over Irby's screamingly funny and scathing humor, or forget the depth and poignancy underscoring pieces like "My Mother, My Daughter", "I Want to Write Your Mom's Match.com Profile", "Milk and Oreos", or "The Triplets."
If you don't know Irby's always rollicking and often powerful work, and missed this profile in the Chicago Tribune and this one in the Chicago Reader – well, lucky you, getting to read this ferociously funny young woman for the first time. If you do know Sam's blog, know that much of the material in Meaty is new and previously unpublished.
Samantha Irby discusses blogging, comedy, self-censorship, and the writers she loves, among other things, with Discover Great New Writers.
You've built your career around Bitches Gotta Eat, amassing a growing number of fans who read your blog. Where did the idea to begin your own blog come from, what struggles have you found along the way, and how does it feel to be where you are now?

I started a blog on Myspace in 2007 in a misguided attempt to impress this dude who didn't want to be my boyfriend. After that relationship ended I realized the thing I missed the most about it was the blogging, so I decided to start a real one. I'm not sure there have been any real struggles other than this sinking feeling that the blog is silently having a negative effect on my romantic life. Where am I now? Still working fifty hours a week and writing my blog in a coffee shop on Sunday morning? That feels okay, I guess. It feels the same. Check in with me once I have enough saved up for that private island I've been eyeing.

In a recent interview with AfterEllen, you said something so spectacular I've been sharing it nonstop ever since: "When people say women aren't funny what they're really saying in a way is that joy and pleasure and the agency to affect someone in that primal and profound way is the province of men. It's simple and misogynistic in the most basic way, and it's quite possibly the most untrue thing ever." How does feminism inform your work? Who are your favorite comedians, male or female, and how do they inspire you?

Mainstream feminism is tricky territory, since it often treats women of color as an afterthought. I have to be radically black before I'm radically female. That said, I write this blog to make women happy, to make women laugh. That's what my whole thing is about. Some of my favorite comedians: Dave Chappelle, Paul Mooney, Janeane Garofalo, Mo'nique, Tina Fey, Mindy Kaling.

Who are your favorite essayists, and how do they inspire you? Favorite writers of fiction?

I like people who are fearless in their honesty, especially if they make me laugh in the process. Essayists include bell hooks, David Sedaris, Sloane Crosley, Sarah Vowell, David Rakoff, Caitlin Moran, Baratunde Thurston, Meghan Daum. Fiction writers include Zadie Smith, Joe Meno, Lindsay Hunter, Megan Stielstra, Junot Diaz, Gillian Flynn, George Saunders, Donna Tartt, Barbara Kingsolver.

You're known for telling it all, for being unapologetically raw and honest. Have you ever offended a close friend or family member with something you wrote? How do you deal with self-censorship?

I don't care about offending anyone, really. My friends all know that I would never disclose anything without their consent, and pissing off anyone who isn't really my friend doesn't matter to me. If you're good to me I'll be good to you. And, if you aren't, I'm going to write about that ugly jacket you were wearing when I ran into you at that party last week.

What is your creative process like? Describe the process of assembling a collection of pieces, which make up Meaty. How long did it take?

I hate sitting with something I've written; fussing over it, fixing it. So I wrote a rough outline for what I wanted to do last July and I spent the rest of the summer and fall working on it. Most of the material in the book is brand new, and once I decided what I wanted to write about I just sat down and did it. I like to write write write then be done with it, and so after four or five months I was finished with it and moving on the the next thing.

Crohn's Disease plays a major part in your life, and while a lot of your work makes light of the awkward social situations and sexual encounters that arise as a result, it's a very serious disease. What do you want people to know about Crohn's Disease? What frustrations does it place in your life?

Here is the one thing I want you to know about Crohn's: when I am having a flare-up, it's not because of "something I ate." Stupid people are so quick to fat shame anyone who happens to be both overweight and suffering from an irritable bowel condition. Crohn's is an immunodeficiency disease; if the prospect of not having to cope with blinding abdominal pain and crippling joint problems was as simple as never again eating another piece of cheese I would never sit down in front of the television with a block of sharp cheddar ever again.

Who have you discovered lately?

I just read both of Kiese Laymon's new books, Long Division and How to Slowly Kill Yourself and Others in America, and they were both totally amazing. That dude is a miracle, for real.

---

Miwa Messer is the Director of the Barnes & Noble Discover Great New Writers program, which was established in 1990 to highlight works of exceptional literary quality that might otherwise be overlooked in a crowded book marketplace. Titles chosen for the program are handpicked by a select group of our booksellers four times a year. Click here for submission guidelines.