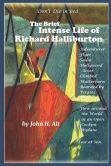 Here was my Siren Dream beckoning to me. This was the Great Hour. I recalled a similar moment, in Japan, when on a zero January morning I faced the iceberg of Fujiyama at the timber line, ready to plunge up the grassy slopes to the blizzard-swept summit. Again, and stronger, came the spiritual exultation, the sudden strange pulse of power that makes cold chills of courage race through one's blood. My body whispered: "You cannot possibly swim five miles in such a current," but Inspiration shouted: "This is the Hellespont — what matter if it's fifty!" I plunged….
The travel writer Richard Halliburton was born on this day in 1900. Halliburton recounted his exotic, often daring trips in a handful of popular books, his "Swimming the Hellespont" taken from The Glorious Adventure (1927), which follows the path Ulysses took around the Mediterranean. John Alt's Don't Die in Bed, the most recent Halliburton biography, is titled as advice, though perhaps for the armchair adventurer:
Imagine yourself like Richard. You climb the Matterhorn in the Alps then later you ascend Mount Fuji in Japan in winter as well as take on Mount Olympus in Greece.… You swim the Panama Canal with locks opening for you. In steamy rain, you slog through the thick jungles of the Malay Peninsula, trusting your native guide to detect trail traces, and you barely escape a cobra's venom. Retracing Hannibal's march on Rome, you cross the Alps on an elephant. At the risk of being shot, you climb the Khyber Pass into Afghanistan. You fly over the Sahara to Timbuktu in an open-cockpit biplane…. Out of Macao, your ship is boarded by Chinese pirates who rob you and other passengers and shoot five people, killing two….
---
Daybook is contributed by Steve King, who teaches in the English Department of Memorial University in St. John's, Newfoundland. His literary daybook began as a radio series syndicated nationally in Canada. He can be found online at todayinliterature.com.