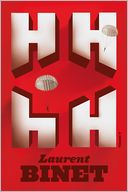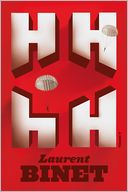 Dear Reader,
I asked one of our Discover readers to talk about his passion for Laurent Binet's novel (which reminds me of Geoff Dyer's Out of Sheer Rage, his book-about-not-writing-about D.H. Lawrence), and this is what our reader said:
"HHhH is a jaw-dropping high wire act of a novel. It is at once a gripping suspense thriller, a detailed historical account, an honest and anxious memoir, a meditation on the process of turning history into art, and even a scathing review of other attempts in the genre. To attempt to fuse together so many elements into one account of Operation Anthropoid, Binet should be in danger of weighing down a compelling story. However, the author's personal turmoil actually lends beautifully to the structure of the novel, and the heart-racing climax is so well-deserved. I'm amazed he pulled off such an ambitious debut, and I cannot wait to read more."
Binet took the time to answer a few questions about his book — starting with its title — and we're sharing his responses here:

HHhH is a very mysterious title. What does it mean?


It was a sort of SS joke that meant 'Himmler's brain is called Heydrich' (Himmlers Hirn heisst Heydrich), suggesting that the real boss of the SS was not Himmler, but his right-hand man.


How did you come to be interested in Heydrich, and more particularly in the two heroes sent by the British secret services to assassinate him?


By chance, as is the case for almost everything that happens to us. As part of my military service, I was sent to Slovakia to give French classes to Slovakian soldiers. My father had told me vaguely about this story, so I started asking questions, and the first details that I heard — the machine gun that jammed, the SS troops trying to drown the parachutists in the crypt — aroused my curiosity.


Could you explain how you researched and wrote the book? For example, the text is based around an author who is very much present — yourself. The story develops through a series of very short chapters, some consisting of only a few lines. Why did you choose this particular form? Was it even a choice?

I wrote this book as if I were solving a puzzle: 250 chapters written out of order, based on the historical information that I was researching, films or novels that I found on the same subject, and my thoughts on the difficulties of writing an account of a true story without betraying the subject or the characters, while at the same time maintaining the appeal and suspense of a novel in its narration.


The book is being published all over the world. How does that feel, to see your story reproduced in a multitude of different languages? Have you noticed any interesting differences of interpretation between different countries?


I am particularly happy about that because, even if I dreamed that the book would be successful, I had never thought that it would be translated. There are lots of questions that are repeated from one country to another, but there are also specific differences. In Spain, for instance, I had lots of questions about the dialogue. I have no idea why, but I was very pleased because it's a question that I find fascinating.


Who have you discovered lately?


I have been reading William T. Vollman's Europe Central for years. I was so dazzled by the first few pages that I couldn't go any further; I just kept re-reading them. A few months later, I started again…then I stopped, started again, stopped…I'm halfway through it now. I envy a country that produces such brilliant writers.

At the moment, I'm reading Hunter S. Thompson's Fear and Loathing: On the Campaign Trail '72. I have professional reasons for doing this, as I'm covering the French presidential election campaign. I love the freedom of its voice. I hope my book about the presidential campaign will have some of that spirit. I recently read a book by a French author, Jean Rolin, called Le Ravissement de Britney Spears (The Rapture of Britney Spears), in reference to a title by Marguerite Duras, Le Ravissement de Lol V. Stein. But, well, it doesn't really have anything to do with Duras. This is the pitch: a French secret agent who does not have a driver's license is sent to LA to protect Britney Spears, who is being threatened with abduction by an Islamist group. Very American, but also very 70s and French: you should translate it. You'd probably enjoy it.
Cheers, Miwa
---

Miwa Messer is the Director of the Barnes & Noble Discover Great New Writers program, which was established in 1990 to highlight works of exceptional literary quality that might otherwise be overlooked in a crowded book marketplace. Titles chosen for the program are handpicked by a select group of our booksellers four times a year. Click here for submission guidelines.