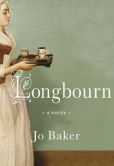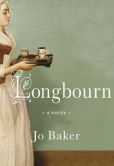 Dear Reader,
Perfect for Austenites and Downton Abbey fans, this smart, sweet-tempered, and entirely engaging story puts the household staff of Pride and Prejudice front and center. And while Mr. And Mrs. Hill, Sarah, Polly, and James — the newest member of the Bennet's staff and the source of some consternation – are wholly the creations of the wildly talented Jo Baker, they fit seamlessly into Austen's world:
Unseen in the hallway, Sarah rolled her eyes. First Mr B., and then Mrs Hill, and now Mrs B.: why was everyone so bowled over? The only thing of note about him was that he was a man. And under fifty, and with nice hands.
Jo Baker discusses her own love of Jane Austen's books, the influence of "that English class thing" (and the scene from Pride and Prejudice that jumpstarted the writing of Longbourn), and writing about characters that kept interesting (and surprising her), among other things, with Discover Great New Writers.
Have you always been a fan of Jane Austen and in particular of Pride and Prejudice?

I can't even remember when I first read Pride and Prejudice – it seems like I've always known it. Jane Austen's work was my first real experience of grown-up literature, and I've kept on returning to her work throughout my life; I just love her books – I'm a sucker for all that buttoned-up desire and wish-fulfillment. But also, as a writer, I admire her – the immaculate prose, the deft plotting, the briskness of the characterization. I didn't, though, for a moment consider trying to write like her. It's impossible to do nowadays without shifting into parody – which is something I really did not want.

How did your family history in some ways inspire Longbourn?

As a child, reading Jane Austen, I became aware that if I'd been living at the time, I wouldn't have got to go to the ball. I would've been stuck at home, with the housework.

We've got some battered old silver cutlery at home, which we inherited from my great aunt. She and her sisters had been in service, and she always said the silverware was a gift from her employer when she left—my grandmother maintained, however, that she'd nicked it. Just a couple of generations back, my family were servants.

And so once I was aware of that – of that English class thing – Pride and Prejudice began to read a little differently. I noticed other presences. A footman enters, a housemaid is told to run along and do something. I also began to realize that some things that seemed to just "happen" – notes arriving, carriages being brought round, meals being served – would of course require human agency to make them occur. I became fascinated by these little flickers of activity: I started to see a whole other life going on below the surface of the book.

But Longbourn really began to take shape when I got snagged on the line "the very shoe-roses for Netherfield were got by proxy". It's the week before the ball, the weather is far too bad for the Bennet girls to venture forth, and so they send a servant out to get soaked on their behalf. And that made it really stark for me. A maid has to trudge out in the rain, and get soaked to the skin, just to get these frivolous little decorations for the other women's dancing shoes.

Then, reading Jane Austen's letters, I stumbled across a reference to two sisters whom she employed to do some sewing for her. Their surname was Baker. Okay, it's a common name, but still, the coincidence struck me! It seemed a confirmation of my instincts.

Any hesitation about reimagining a classic?


I did hesitate. I hesitated for ages. I'd been thinking about this book for years before I first put pen to paper. That said, I don't really think of it as a "re-imagining". For me it's a "reading" of the classic. I just happen to "read" it a bit more intensively than might be usual, to include some elements that Austen didn't actually write.

I'll admit that Austen was peering over my shoulder while I was writing. Metaphorically speaking. But, again, when it came to characterization, I didn't want to write like her; I wanted to develop characters who could hold their own alongside hers, who would create space for themselves, who would be noticed in a crowded room. On a more personal level, I wanted to write characters who interested me, and kept surprising me. And they did.

Is there a character in Longbourn that you feel a particular affinity for?

I think I feel affinity for aspects of every one of them, really – I think when you're writing you seek to understand what's going on behind everybody's social mask. Writing fiction is all about empathy, really. So though we might be rooting for Sarah or James, I still love Mrs. Bennet for her unarticulated sadness, and Mr. Hill for his acts of kindness, even though he might be gruff. Even Wickham, whose behaviour is dreadful – I do feel for him, because in this rigid, formal world he lacks a place – he doesn't belong anywhere.

What kind of feedback have you had from readers and Austen fans?

Readers, on the whole, whether already Austen fans or no – have been overwhelmingly positive. I've only had a very few entirely negative responses to the book so far – and in each case from people who hadn't actually read it. One gentleman was keen to inform me about an ancestor of his who was testified against by a servant – the servant had witnessed him in 'criminal conversation' with a married lady. This was in the 1700s; the family had to ten thousand pounds in compensation to the lady's husband, and the young man was banished to France. The present-day gentleman seemed be holding a grudge against servants in general as a result. He certainly seemed to think they didn't merit the attention I had given them.

Who have you discovered lately?

I've been reading Graham Robb's marvelous book Parisians: an Adventure History of Paris. A kind of psychogeography, it moves from the establishment of the city of Paris to the present day, using the stories of individual inhabitants to trace the history of a city. There's a fabulous section on Marie Antoinette and Louis XVI's attempted escape, and the piece on the Vel d'Hiv roundup was so desperate and moving that I had to read it sidelong, not really looking. A fabulous book.
---

Miwa Messer is the Director of the Barnes & Noble Discover Great New Writers program, which was established in 1990 to highlight works of exceptional literary quality that might otherwise be overlooked in a crowded book marketplace. Titles chosen for the program are handpicked by a select group of our booksellers four times a year. Click here for submission guidelines.