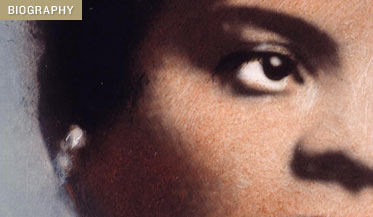 Here is a bare outline of Ida B. Wells?s life, as Paula Giddings presents her in this well-crafted and deeply researched new biography: born to slave parents in Mississippi in 1862, she spent a few years as a teacher and then became a journalist. Eventually she led an international crusade against the crime of lynching. Her approach to this crusade brought her both admirers and critics. During her lifetime, at least, her own community never acknowledged all that she had done for the cause.

Giddings?s A Sword Among Lions does a splendid job of filling in the details of this controversial life. Author of the widely admired When and Where I Enter: The Impact of Black Women on Race and Sex in America (1996), a collective biography of black women activists, Giddings brings to this topic a deep knowledge of not only the details of Wells?s life but also the intricacies of the historical circumstances that affected Wells?s career. The book is a major accomplishment.

Giddings begins her book with an exploration of the impact of the end of Reconstruction on southern African Americans. With the departure in 1877 of federal troops from the South, the region?s black citizens were left virtually unprotected. When disputes between blacks and whites turned into fights, and fights turned into riots and massacres, local authorities stood by or, worse, took part in the violence themselves. With increasing frequency, African American men, women, and even children were beaten, shot down, burned out, and lynched.

A Sword Among Lions reconstructs Wells?s response to these horrors. Hers was a life that began in family tragedy. She had been studying to be a teacher in 1878 when yellow fever took the lives of her parents and their youngest child. Resolved to keep her five surviving siblings together, Wells took on their financial support. She dressed herself up to look older than her sixteen years and got a job as a teacher in a town outside of Memphis, Tennessee.

Soon she was challenging the racial politics of her times. In 1875 Congress had passed a Civil Rights Act that forbade racial discrimination in public accommodations, but then Tennessee passed a law allowing proprietors to exclude whomever they wished. In 1883, after a conductor on a local railroad ejected Wells from a whites-only "ladies? car," she sued, arguing that the "colored" and "white" cars were not equal. A lower court awarded her damages, but the decision was overturned in the state Supreme Court.

Wells?s suit brought her local renown. The Memphis black press invited her to write articles, not just about her own case but about other instances of racial discrimination in her community. The Memphis Lyceum, an institution founded by black teachers, also invited her to speak. As conditions for African Americans grew worse, Wells sharpened her writing and oratorical skills. Increasingly fervent and powerful protests came from her pen. After the lynching in 1892 of three successful black Memphis grocers, one of whom had been a close friend, the course of Wells?s life became set. She would become an acclaimed, audacious, and unswerving "crusader" for justice.

Giddings explains how Wells investigated first the Memphis lynching of 1892 and then similar events elsewhere. She traces the evolution of Wells?s strategies for arousing public awareness of the causes of lynching. Some white supremacists claimed that the victims of lynching deserved their fate because they had committed sexual crimes against white women. Wells not only refuted the charge but dared to suggest that some sexual relations between white women and black men were consensual. For this suggestion, when she was out of town at a meeting, a newspaper she partly owned was destroyed and her life threatened. Wells would not return to Memphis for three decades.

For the rest of her career (she died in 1931), Wells produced articles and pamphlets that demonstrated the role of race prejudice in lynching. Despite criticism for just raising the issue, she continued to press home the falsity of the rape charge. Since local authorities had proved useless in protecting black citizens, she also campaigned to make lynching a federal crime.

Not everyone in the civil rights community approved of Wells?s tactics. Giddings shows how Wells alienated not only white supremacists but also supporters (white and black), like temperance leader Frances Willard, who could not accept Wells?s focus on the rape issue. Giddings also dwells at length on Wells?s relations with black community leaders, including black clubwomen, who at the time were counseling a more accommodationist strategy in their quest for equality. Relations became so strained that, decades after Wells had begun her work, the National Association for the Advancement of Colored People (which Wells had helped found) failed to accord her much credit for having launched the anti-lynching crusade.

As she tells Wells?s story, Giddings spares none of the horrors of the race riots, massacres, and lynchings Wells investigated. She explores in depth other topics relevant to Wells?s life, such as the rise of black journalism, the emergence of black women?s reform movements and their relationship to the white-dominated woman suffrage and temperance campaigns, the political life of Chicago (where Wells spent her mature years), and the debates within the African-American community over how best to secure civil rights.

Giddings conveys so much information on these topics that at times the narrative focus on Wells gets lost. Readers anxious to get on with Wells?s story may become impatient. Moreover, readers hoping to learn about Wells?s personal life will be disappointed. In her early thirties, Wells married Chicago attorney Ferdinand Barnett; they had four children together. In this biography these events seem just to happen, with almost no commentary on the nature of the couple?s life together.

Perhaps Giddings?s sources dictated her lack of focus on the personal. Among the most important of these are Wells?s own autobiography, newspaper reports, and letters that Giddings found in the archives of Wells?s more famous correspondents, such as Frederick Douglass. Necessarily, these sources favor the public over the personal. But Giddings did have access to some members of Wells?s family. One wonders: did she leave sensitive material out deliberately? Or did she simply not find anything substantial to say?

More information about the personal might have shed more light on a topic important to Giddings but one that she never probes as deeply as she might have, and that is Wells?s marginalization by her own community. Did this occur solely because of Wells?s unpopular views or because of something else? Early in the book Giddings writes that Wells "showed not only a certain social obtuseness and a look-no-further sense of right and wrong" but also "a profound lack of empathy for those who could not get out of the way when the chips, loosed by her righteous indignation, began to fall" (168). But Giddings never systematically explores this aspect of Wells?s temperament. More coverage of Wells?s family relations would have helped. Despite Wells?s flaws, some among her family and friends must have loved her, but since the book eclipses so much of her private life we learn more about the painful events to which she devoted her public career than we do about the woman herself.