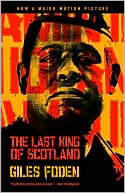 March 29:On this day in 1979, Idi Amin fled Kampala for his tribal homelands, his mad,monarchial rule of Uganda effectively over. Amin's decade of terror, atrocity,and black comedy inspired Giles Foden's award-winning 1998 novel, The Last King of Scotland. Here Aminenlarges himself well beyond the position of Life President:
His Excellency Presidentfor Life Field Marshal Al Hadj Doctor Idi Amin Dada, VC, DSO, MC, Lord of Allthe Beasts of the Earth and Fishes of the Sea and Conqueror of the BritishEmpire in Africa in General and Uganda in Particular welcomes the Court ofKampala and assembled worthies of the city to his annual banquet.
The above is excerptedfrom a moment early on in the banquet and the book, when the narrator, NicholasGarrigan, who out of boredom and fear has accepted the post of personal physicianto Amin, begins to realize what he's in for. A few moments later, as Dr.Garrigan chews on fried bee larvae and other strangeness, the table talk takesanother unappetizing turn:
Suddenly Amin himself,overhearing, called down from the top of the table.

"And what is yourfault with monkey meat, Minister of Health. I, your President, has eaten monkeymeat."

Wasswa, craven, toyed withhis cutlery.

"And I have alsoeaten human meat."

This His Excellency almostshouted. A shocked silence fell over the table—almost visible, as if somediaphanous fabric had come down from the ceiling and settled over the streamingtureens and salvers.
Foden grew up in nearbyMalawi, moving there with his family the year that Amin took control in Uganda.Recent news articles wonder if Malawi is a monarchy in the making, given that "HisExcellency the State President Ngwazi (Conqueror of Conquerors) Professor Binguwa Mutharika," who is barred by the current constitution from running fora third term in office, is heavily promoting his younger brother as successor.
---
Daybook is contributed by Steve King, who teaches in the English Department of Memorial University in St. John's, Newfoundland. His literary daybook began as a radio series syndicated nationally in Canada. He can be found online at todayinliterature.com.