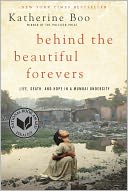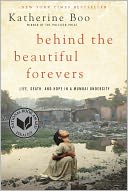 Dear Reader,
This is what we said back in February:
"We're sure Behind the Beautiful Forevers will be on the shortlist of many of the major literary awards this year. Katherine Boo's meticulously reported account of Mumbai's Annawadi slum— with its unforgettable characters surviving despite deplorable conditions — is indelible literature."
We were among the crowd last night at the National Book Awards ceremony, applauding wildly as Katherine accepted the nonfiction prize for her masterpiece, which was also a Spring 2012 Discover pick. We're re-running her conversation from earlier this year with Discover Great New Writers , which includes her rave for a Holiday '12 pick, Aman Sethi's A Free Man.
We're thrilled for Katherine and can't wait to see who and where she writes about next.
For two decades, and currently at The New Yorker, you've written about the distribution of opportunity, and the means by which people might get out of poverty, in America. What inspired you to start asking the same kinds of questions in India?

My husband is an Indian citizen, and since we met in 2001, I've been watching the landscape of his country transform as its economy grows. Some of the change is staggeringly obvious, like the skyscraping luxury condominiums with stirring views of other skyscraping luxury condominiums. But I couldn't quite make out what had and hadn't changed in historically poor communities. I generally find issues of poverty, opportunity, and global development to be over-theorized and under-reported.

When you started your reporting in a slum by the Mumbai international airport, how did you choose which people to write about?

When I begin reporting, I try to follow as many people as I can-go where they go, do what they do, whether they're stealing or teaching kindergarten or running a household. The more people I get to know, the better I can distinguish between anomalous experiences and shared ones. I'm not looking for the wildest, most flamboyant stories. I'm looking for resonant stories—stories that might illuminate something about the structure of a society. And you can't predict which individuals' experiences, months or years later, will come to shed that light.
For instance, when I first began hanging out with a diffident teenaged garbage sorter named Abdul, I had no idea that his story would have anything to do with questions of criminality or justice. I was simply intrigued that the excesses of the city and a surging global demand for recyclables had helped turn his stigmatized work profitable. It was something I didn't know, hadn't read about. I was also struck by his watchful silence. I often find, in my reporting life and outside it, that the people most worth knowing are hard work to know.

Did Abdul and the other Annawadians want to know about you, too?

They were more curious about my Indian husband. In the months before they got to know him, they were whispering about how he must not love me, since he was permitting me to hang out alone in a slum in the middle of the night.

The book contains remarkable juxtapositions of hope, insight, and desperation. Were some moments particularly painful to witness?

Many moments, but there were elating moments too. Had I written a book that was just some dolorous registry of terrible things that happened in Annawadi slum, it wouldn't have done justice to what Annawadi felt like, day to day. Annawadi life was also about flagpole ring-toss and tell-all sessions with a best friend at the toilet and parents comforting and delighting in their children. It was about Sunil and Sonu, young scavengers who are applying their rich imaginations to gathering trash and figuring out their place in the world.

Sunil and Sonu have tough, tough lives but if a reader comes away from this book thinking of them only as pathetic socioeconomic specimens I'll have failed as a writer. They're cool, interesting kids, and their partnership was an inspiring thing to be around. I want the reader to sense that, too. Because we can talk all we want about how corruption or indifference robs people of opportunity-of the immense talent our societies squander-but if we don't really grasp the intelligences of those who are being denied, we're not going to grasp the potential that's being lost.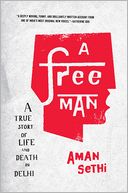 Who have you discovered lately?

One recent discovery for me has been Aman Sethi, a courageous Indian journalist lately working in one of India's poorest states. He's also an original thinker and writer, and gets that journalism about the lives of low-income people doesn't have to be stiff and humorless to matter. Sethi's first book, A Free Man, came out in India last year to great admiration, and it will be published in the U.S. this fall.
Cheers, Miwa
---

Miwa Messer is the Director of the Barnes & Noble Discover Great New Writers program, which was established in 1990 to highlight works of exceptional literary quality that might otherwise be overlooked in a crowded book marketplace. Titles chosen for the program are handpicked by a select group of our booksellers four times a year. Click here for submission guidelines.