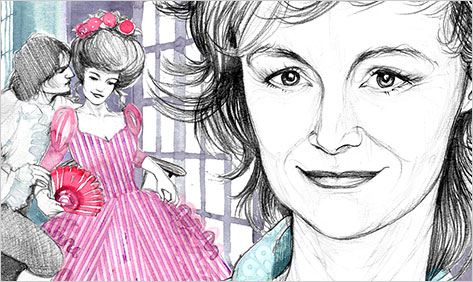 When's the last time you were so humiliated that you wanted to drop through the floor, or off the side of the earth, or out of the solar system altogether? If you're like me, it happened in the context of a date, or a love affair…in short, in front of someone you desperately wanted to impress. Each of this month's five novels include one of those humiliating, skin-crawling moments. Prepare to enjoy wincing sympathetically with the heroine — even though you know that she'll get her own back by the time you close the book. Don't you wish life offered the same options?

Christina Dodd's Secrets of Bella Terra is the first of a new series focusing on three hot brothers whose family runs a luxurious vineyard resort (think wine-tasting and spa together). The oldest brother, Rafe Di Luca, temporarily deserts his international security company when his grandmother is attacked — and that puts him in close contact with Brooke Petersson, a woman he seduced and then dumped. But now Brooke's humiliation is all in the past. A gorgeous, adult version of herself, surely she can trample all over his betraying little heart? Wait for the morning after Rafe seduces Brooke (again!) and then tells her that he "owed" her, since she helped him sort out his PTSD. Brooke responds with the fury you would imagine. Secrets of Bella Terra has a ripping suspense aspect — but what I loved was the heart-rending interaction between Rafe (a clueless man, if there ever was one) and Brooke, a woman on the warpath. Does Rafe get his come-uppance? Is Christina Dodd one of the best romance authors writing today? It's a page-turner getting there, but the moment when Rafe starts begging is wildly, deeply satisfying. And I'm happy to say that Brooke is no pushover…though Rafe's tactics would make many women succumb.

Susan Andersen's Playing Dirty opens with a similar premise, but here the heroine's past encounter with the hero is even more painful. When Ava Spencer and Cade Gallari were in high school together, he was the golden boy, and she was an outsider. He took a bet that he could "bag the fat girl"…and when he succeeded, his two hundred dollar winnings exchanged hands in front of the entire class. If this happened to me, I'd turn and run, but Ava snaps out a joke at his expense: "I think I should get part of that…One session with Quick Draw McGray here pretty much put me off sex for life — and if that doesn't entitle a girl to a cut, I don't know what does."
Now it's thirteen years later and Cade is back in town, shooting a documentary about a house that Ava and her friends inherited. And he's using her concierge company to manage the production. Meanwhile, Ava has turned her busty, hippy curves into a package that men adore. Cade has spent thirteen years trying to apologize…but honestly, who needs the apology when it's so much fun to watch Ava make him beg? In her words, "She was bringing the man to his knees. Cade Calderwood Gallari would rue the freaking day he'd ever messed with Ava Spencer." Reading this novel is like eating a perfect slice of watermelon on a hot, hot day: there's not a thing you'd change, and pure pleasure in every bite.

Louisa Edward's Too Hot to Touch also starts with an early crush: her heroine, Juliet Cavanaugh, has pined over Max Lunden since she was a teen. These days, he's an internationally famous chef, and Jules is the chef at his family's tavern in Greenwich Village, far below him in the food chain. What's more, he's gorgeous, and she couldn't dress "sexy" to save her life. But when the tavern enters a culinary contest, they call home their star. Almost before she knows it, Juliet is playing a dangerous game…having hot sex with the prodigal chef on a "let's-keep-it-simple" basis. She knows her heart is on the line, but Max is the kind of guy who has no problem keeping their affair secret, "since it doesn't mean anything." To do her credit, Juliet comes back with a bright "Great!" Every woman who's made the painful discovery that great sex is not enough to make a man realize he's in love will sympathize. Too Hot to Touch flips the power balance, though, much in the same way that Playing Dirty does. By the end of the novel, self-contained, quirky Jules holds all the cards, and Max is longing for words from her that he never dreamed he'd want to hear. When he tries out his old mantra — Keep moving, Never stop — he finally understands that moving on could break the heart he thought he didn't have.
 Elaine Levine's Leah and the Bounty Hunter pairs a similarly "unfeminine" heroine with a dominant, alpha-type man. Jace Gage (aka "Avenger") is a gunfighter who rides into the town of Defiance determined to clean up the town and its corrupt sheriff. The first person he encounters is Leah Morgan, though he mistakes her for a boy. Leah is a fascinating heroine — a trousers-wearing, gun-toting anti-woman whose closest companion is a pet wolf. Gage is instantly captivated, not only by her revealing clothing, but by the fact that she can hunt, trap and fish – and her successful bakery business. Before long he's wrangled her into a temporary marriage, though with a promise of non-consummation. From this description, you might think that Leah is the humiliated partner, but in fact, Leah has a fierce independence that shields her from being shamed. It's Gage who suffers when Leah looks at him with disdain or (even worse) horror, when she turns up her nose at his profession as a gun-fighter. The way in which Gage manages her mind is tremendously endearing, but the moment when he breaks down and asks why she left him…unforgettable. 
Lorraine Heath's Waking up with the Duke shapes its plot around a mortification so vivid it's sometimes hard to keep reading. Ransom Seymour, the Duke of Ainsley, is famous for his seductive techniques. He owes a debt to his closest friend, who demands a shocking payment: that Ransom use his skills in the bedroom to make love to his wife and give her a child. As you can imagine, Lady Jayne Seymour is furious and embarrassed when she's informed that her new wifely duty involves having sex with a man of her husband's choice. And Ransom feels like a sex worker, further shamed by Jayne's acknowledgement that "you've obviously earned your reputation." Sex between two people who are together under duress leads to obvious humiliations. Ransom is mortified, Jayne is mortified… and yet Waking up with the Duke turns into one of the sweetest, sexiest books I've read in a long while. It's a huge pleasure once Jayne admits that she didn't think she'd like him so much, and Ransom acknowledges (if only to himself), that he's fallen in love. But underlying their growing love is the harrowing truth that Jayne is married. When she returns (now pregnant with Ransom's child) to her husband, Ransom's broken heart will break yours as well. I won't say how this tangled knot unravels, but the conclusion is surprising, and deeply satisfying.
Barring a triumphant high school reunion, there's nothing much any of us can do about the humiliations in our past. That means there's enormous enjoyment in reading about women who take it on the chin — and come back swinging, grinding the offender into the dust under her heel. And then picking him back up and marrying him!
---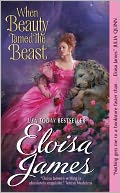 Eloisa James's latest romance is When Beauty Tamed the Beast.
Please do check out Eloisa's past columns in the Archives, and if you'd like to get her reaction to romances as she reads them, follow her on Facebook or Twitter. B&N offers lots of places for you to share your reactions to your favorite books. There's the Romantic Reads Book Club, not to mention our daily romance blog, Heart to Heart, where readers chat about the hottest news in the world of romance, from favorite authors to scorching love scenes.
For sneak peeks at all Eloisa's romances, please visit her web site at www.eloisajames.com.