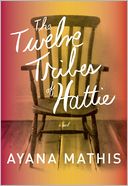 I adore Hattie Shepard, the protagonist of Ayana Mathis's terrific debut, The Twelve Tribes of Hattie. I won't deny she's a bit trying at times — "distant and cold and unknowable" as Mathis says below — but I'm a New Englander (some might argue we Yankees have distant and cold and unknowable stamped on our bones), and here I am, writing about a fictional character as if I'd met her in the flesh.
The readers on our Discover committee adore Hattie, too, selecting the book for our upcoming Spring 2013 Discover Great New Writers list.
So it's no wonder that Oprah Winfrey adores Hattie, too, making it the second pick of Oprah's Book Club 2.0. (The special Oprah's Bookclub 2.0 edition of the Nook Book Edition of The Twelve Tribes of Hattie is here.)
In this exclusive Q&A with Discover Great New Writers, Ayana discusses the profound changes brought by The Great Migration, what it feels like to be alone in a crowd, and her "hard to love" character, Hattie Shepard.
What was your inspiration for the novel, why did you want to write about these people?

I grew up in unusual family circumstances: I had lots of aunts and uncles, but my mother and I had very little contact with them after I was ten or so. My mother was always telling stories about the 1940s and 50s, the years of her childhood and adolescence, and about her siblings. It's as though I grew up with family ghosts, vague figures that weren't quite real. It didn't help that my mother's stories were just the barest of snippets. As I got older, those stories expanded in my imagination until they grew to mythic proportion. In many ways the novel is my attempt to imagine my way into family and to understand where I came from, to give myself grounding and a context. The characters in the novel are also a part of my family's wider historical context. Hattie's children are the first generation of Great Migration children born in the North.

What is the Great Migration, and what does it have to do with the book?

The Great Migration is one of the most enormously impactful migratory movements of the twentieth century. From 1910 to 1970 some six million blacks left the terrors of the Jim Crow south, often with nothing—a few dollars or just enough food for their journey—for the cities of the North, West and Midwest. Their movement profoundly changed America—demographically, culturally, intellectually and politically. I don't know that James Baldwin, Ella Fitzgerald, Thurgood Marshall or other black luminaries of the last century could have developed their incredible gifts had they not escaped the boot of racial oppression in the south. And of course, now we have second and third generations of Northerners, like Michelle Obama or Toni Morrison, the children and grandchildren of the Great Migration. My own grandparents were a part of that movement, as are Hattie Shepherd and her children. Certainly, Hattie's life in the North isn't easy, but she believes powerfully in its potential, if not for her then for her children. The book is very specifically about Hattie but she is also a symbol of the incredible heroism of millions of men and woman who faced the same ferocious odds, men and women who did not merely survive, but grew into a nation. Theirs is a very American story.

Why did you decide on this episodic structure?

I wish I could say that I'm a genius and had thought it all out before I wrote a single word. Nope. The truth is that I thought I was writing short stories. I was on the third one by the time I realized they were part of a novel; the structure was pretty clear by that point. That said, it works in a number of ways. The Shepherds are a Great Migration family and so it's fitting that their story would span the decades of that movement. Secondly, Hattie isn't about family life in the conventional sense, I don't think I would know how to write a book like that. These characters were raised to be tough and self-reliant no matter what. The price of that independence is isolation, from each other, from Hattie and sometimes from themselves. I wanted to explore the idea of being alone in a crowd, of being so "strong" that you aren't able to ask for help though you're surrounded by people who could help you. In each chapter the characters are at a critical point, a life moment during which his or her strengths and weaknesses are most in play. (As in life, I think, we are most ourselves, or at least most raw, when everything is going haywire.) The episodic structure allows the reader to witness the characters in their critical moments, and then zoom out and move on to the next one. In a more conventionally structured novel I couldn't have all of the characters in crisis every minute, it's unnatural and would become tedious really quickly.

Also, I think of Hattie and her children as little lights, in the way lights twinkle in a city skyline at night. There is something about that twinkling, all of these separate lights that make something glorious when seen together, that was fascinating and very beautiful to me.

A line in the novel describes Hattie as "hard to love." What is it about her that's so difficult, and what does that mean for her children?

Hattie isn't tender. She's not milk and cookies, bedtime story kind of a mother. She loves her children deeply, but that love is shown through feeding them and clothing them and keeping them alive. And more than that, Hattie believes that part of her duty as a mother in the pre-Civil Rights era is to prepare her children for a world that will not be kind to them. She's afraid that too much tenderness will make them too soft to meet the difficulties they will surely encounter as they grow up. Of course, her children don't see things that way. They find her distant and cold and unknowable. They are all suffering from a kind of acute mother-want; they miss Hattie even though she's right there with them physically. I think the book is also about flawed love, as it is given and received. And isn't that everyone's story? None of us give or receive a perfect love. We, like Hattie's children, have to learn how go on with the business of living though we don't always get what we need, or what we think we need.

I was also interested in exploring the idea of strength. I think there is a tendency to understand strength as an all or nothing state of being. When we say people are strong we presume that those people, those heroes, don't suffer doubt and fear, that they aren't scarred in some way, or weary. Which isn't true of course, all of these things are part of being human. Hattie is most certainly strong, and enormously heroic, but she is also stern and vulnerable and angry. She's fully human, the good and bad. And the more complex aspects of her character are little hard to love.
Cheers, Miwa
---

Miwa Messer is the Director of the Barnes & Noble Discover Great New Writers program, which was established in 1990 to highlight works of exceptional literary quality that might otherwise be overlooked in a crowded book marketplace. Titles chosen for the program are handpicked by a select group of our booksellers four times a year. Click here for submission guidelines.