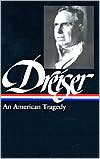 Theodore Dreiser died on this day in 1945. Among the funeraltributes was H. L. Mencken's description of Dreiser as "a man of largeoriginality, of profound feeling, and of unshakable courage," one who leftAmerican writing changed "almost as much as biology before and afterDarwin." Mencken had for decades championed Dreiser's gritty realism andhis shared habit of going against the stream, but their friendship had oftenbeen combative. Dreiser had inscribed one of his books, "To H. L. Mencken,my oldest living enemy," and Mencken had trashed An American Tragedy as "a vast, sloppy, chaotic thing of385,000 words — at least 250,000 of them unnecessary."
Many had expressed similar criticism of Dreiser's writing,and similar praise for his accomplishment. Sherwood Anderson's 1923 storycollection, Horses and Men isdedicated to Dreiser and prefaced with Anderson'stribute to Dreiser's embattled path as a pioneer in American naturalism:
Heavy, heavy, the feet of Theodore. How easy to pick some ofhis books to pieces, to laugh at him for so much of his heavy prose.

The feet of Theodore are making a path, the heavy brutal feet.They are tramping through the wilderness of lies, making a path. Presently thepath will be a street, with great arches overhead and delicately carved spirespiercing the sky. Along the street will run children, shouting, "Look atme. See what I and my fellows of the new day have done" —forgetting theheavy feet of Dreiser.

The fellows of the ink-pots, the prose writers in America whofollow Dreiser, will have much to do that he has never done. Their road is longbut, because of him, those who follow will never have to face the road throughthe wilderness of Puritan denial, the road that Dreiser faced alone.
The road theme is echoed in the Dreiser poem which CharlieChaplin, another friend, read at the Hollywoodfuneral:
Oh space!
Change!

Toward which we run
So gladly,
Or from which we retreat
In terror—
Yet that promises to bear us
In itself
Forever.

Oh, what is this
That knows the road I came?
---
Daybook is contributed by Steve King, who teachesin the English Department of Memorial University in St. John's,Newfoundland. His literary daybook began as a radio series syndicatednationally in Canada. He can be found online at todayinliterature.com.