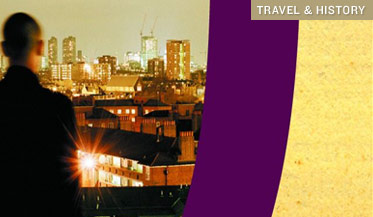 On January 4, 1999, Geert Mak, a Dutch historian and journalist, set off from his home in Amsterdam to follow an intricately charted itinerary he designed to retrace and retell the volatile, bloody history of Europe during the 20th century as it was drawing to its close.

From major cities and from once notorious and deadly and now mostly sleepy milestones like Ypres, Verdun, Guernica, Dunkirk, Auschwitz, Stalingrad, Cassino, Chernobyl, and Srebrenica he filed his time-traveling dispatches to his newspaper, NRC Handelsbad, which printed them as the year, the century, and the millennium ebbed. That reportage formed the basis of a bestselling book in Holland that has now been published by Pantheon in an 876-page English translation by Sam Garrett. It is a brilliant though dispiriting tour de force, a Baedeker both for a 20th-century Europe that had been widely regarded as the curator of civilization as well as for our own time, the only era most of his readers have ever experienced.

In his book Mak often appreciatively cites Joseph Roth, the Jewish, originally Austro-Hungarian novelist and journalist who drank himself to death in Paris on the eve of the Second World War he had long anticipated. Mak has clearly drawn on the techniques of Roth and his fellow feuilletonists. In contrast to prevailing American currents, these European commentators — people like Curzio Malaparte, George Orwell, Rebecca West, and Ryszard Kapuscinski — were less interested in hard-edged scoops than in searching for the zeitgeist of this or that epoch, pursuing it through barroom and coffeehouse speculation, spontaneous wanderings, slum crawling, chance encounters, eclectic historical studies, and their talents of empathy and intuition.

All such approaches are evident in In Europe, but what makes the book particularly distinctive and readable is Mak's tight control of his expansive material as he strictly adheres to the marche route he devised for his yearlong campaign across the continent and the century. There are 12 sections in the book, each one is devoted not only to a month of Mak's own travels in 1999 but also to a specific span of years. So, in the first section we read of Mak's travels in January to Paris, London, Berlin, and Vienna. He uses these cities to evoke the ethos of an Imperial Europe between 1900 and 1914, when genealogically related monarchs still maintained thrones from Russia to Great Britain. February is devoted to World War I, with Mak writing from Ypres, Cassel, Verdun, and Versailles. In March, he doubles back a bit to 1917 in order to retrace Lenin's rail odyssey from Zurich to Stockholm, Helsinki, and then on to St. Petersburg — where he and his Bolsheviks seized power in a revolution.

So it goes through the rest of the calendar. April and May are spent covering the interwar period, detailing the rise of Hitler and fascism in Germany, Austria, Italy, and Spain. During June, July, and August, Mak traveled to 20 sites between the D-Day beaches and Stalingrad, providing both panoramic and close-up portrayals of the Second World War. In September he visited places such as Dresden and Nuremburg to report on the war's aftermath, and then in October it was on to Budapest and Prague, and a description of the spread of Soviet power as the Iron Curtain descended and the Cold War began. November finds Mak turning to Europe in the 1980s, reporting from Gdansk on the rise of the Solidarity, the collapse of communism and German reunification. And in December he wrote of the wars of Yugoslavia's dismemberment. Poignantly, his last dispatch was from Sarajevo, where the First World War had started. As he watched the snow fall through the windows of the To Be or Not to Be Coffee house, he noted that the Gavrilo Princip Bridge, named for the Serbian nationalist who sparked the war by shooting Austria's Archduke Francis Ferdinand, was once again being called the Latin Bridge, just as it was before 1914. He also quotes a Bosnian friend telling him that in the Serbian siege of Sarajevo during the century's last decade, 11,000 of the city's 400,000 inhabitants were killed — 1,100 of them were children.

That is Mak's characteristic tone. He combines important bits of encyclopedic data with rich seams of journalistic observation to propel his cohesive narrative. In passing, he keep giving the body counts of Europe's 20th century — whose innovations included the extension of mass killing — listing the losses in battles, bombings, sieges, uprisings, Nazi exterminations, and Gulag liquidations. Many are simply rounded off to the nearest million, as with the estimated 10 million killed in the First World War, most of them soldiers, and the 55 million slain in the Second World War, overwhelmingly civilians.

For the most part, however, Mak concentrates on individual rather than collective experiences, citing memoirs and recollections and interviews with scores of victims, survivors and warriors on all sides. These included marginalized figures of distinction like K?the Kollwitz, the German artist and humanist; Victor Klemperer, the German Jewish diarist who documented the intensifying indignities of day-to-day life in Dresden throughout Hitler's rule; Vittorio Foa, the nonagenarian Italian anti-fascist; and Wladek Matwin, a veteran of the Soviet army and a Polish Communist leader in the postwar period. Mak threads his account with many engaging historical flourishes. For example, he offers the story of Emily Davison, the British feminist and suffragist who, after many hunger strikes, finally died for her cause in June 1913, when she walked onto the racetrack Epsom Downs during the Derby and was trampled by the king's own entry. In a German town near Poland, Mak visits an old friend who describes how he and his neighbors experienced the economic and psychological costs of unification. He writes of men he clearly admires, among them Churchill, De Gaulle, the former Dutch Prime Minister Ruud Lubbers, and particularly Jean Monnet, the French economic visionary whom Mak credits with setting in motion the economic and political conglomeration of democratic Europe.

Mak welcomes this development, but he is careful not to suggest that either the European Union or the collapse of Communist rule can be regarded as compensatory paybacks for the century's gruesome legacy. Indeed, for this reader, the most striking impression after reading this excellent book is an deepened recognition of how much of the 20th century in Europe was dominated by the aggressive initiatives of villains and tyrants of monstrous and monumental magnitude; Hitler and Stalin, above all, but also Franco, Mussolini, Ceaucescu, Hoxsa, and Milosevic. There were, of course, virtuous and valorous heroes opposing them, but with the exception of Churchill and possibly the Americans Roosevelt and Marshall, these were men of basically human scale. In the end they and those they inspired parried the thrusts of the tyrants, prevailed and endured — but given the costs involved it seems absurd to talk of triumph.