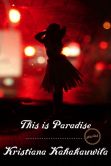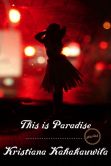 Dear Reader,
A varied cast of exiles, outsiders, and native Hawaiians search for home and identity among the islands that many consider to be synonymous with paradise in Kristiana Kahakauwila's earthy, emotionally-resonant debut story collection. Kahakauwila discusses the challenges of writing short stories, paying homage to Hawai'i's history and variations of pidgin language, and how her research took her to a Nebraska City Ranch in January, among other things, with Discover Great New Writers.
How has your own experience in Hawai'i shaped your writing? Is there a character in This Is Paradise that you identify with in particular?

In Hawaiian, the word "hapa" loosely translates to "part" or "half." I'm ethnically hapa—half Native Hawaiian and half Caucasian. Moreover, I grew up in California but spent holidays and summers on Maui with my paternal family, so I'm also geographically hapa. I wouldn't have considered myself local until I moved to Honolulu. Now maybe I'm hapa-local.

I explain all this because my experience of Hawai'i has occurred in parts and on multiple levels: as a native and as a foreigner, as a local and as a visitor, as a Hawaiian and as a Caucasian.

My characters reflect this multiplicity of experience. "The Road to Hana" probably offers the most explicit discussion of this theme, but elsewhere characters such as Sarah in "Portrait of a Good Father" and Pili in "The Old Paniolo Way" struggle to find their place in Hawai'i. And I think they realize, as I have, that they don't need to be restricted to one place, one relationship with the islands. They can occupy multiple spaces, have multiple relationships with their homes and their own histories. In one way or another, each of the characters is reflecting a part of me.

Why did you decide to write about Hawai'i and your characters through a short story format?

I find the short-story form challenging. The focus, the brevity, the tightness required—not only of the plot, but of the actual line—makes the short story like a diamond. It glitters only when put under the highest pressures. By contrast, the novel is wonderfully expansive, with multiple themes and an ensemble of characters intersecting in numerous, unexpected ways.

I think my stories engage both forms. Some of my stories are like mini-novels, weaving together numerous motifs or employing several perspectives. But then, as in classic short fiction, structure is provided by a singular focus: in this case, on place. Hawai'i—its beaches, its ranch lands, its urban centers—is so central it becomes a recurring character.

So, the short-story format allowed me to hem in the novelistic expansiveness while still offering a vision of Hawai'i that is nuanced, complicated, and layered; in other words, one that mirrors my experience of the islands.

Are there any particular short-story collections or novels that you relied on while writing your book?

A common Hawaiian saying is, "Look back into the future." I wanted my stories, though set in contemporary Hawai'i, to be ever aware of the past, so historical texts like Queen Lili'uokalani's Hawai'i's Story by Hawai'i's Queen and David Malo's Hawaiian Antiquities were important to my process. History licks at the edges of these stories.

I also read Amy Hempel and Alice Munroe. Hempel's brevity and her way of implying emotion without stating it was a lesson for me. Munroe, too, keeps an emotional distance, but her craft is different, and she manages these huge leaps in time with such deftness. Reading The Love of a Good Woman was like short story-writing bootcamp.

Finally, I listened to a ton of Hawaiian music. I borrowed my parents' CDs. I bought old LPs. Traditional chants, himene (Christian hymns), and popular Hawaiian music by the likes of Eddie Kamae and Sons of Hawai'i and Olomana added texture and emotional landscape.

You mentioned that a couple of your stories are told from multiple perspectives. Why did you choose to inhabit several characters in a single story?

In many ways fiction is more truthful than textbook history. Textbook history pretends to be objective, but it isn't. Fiction admits to its subjective nature; moreover, it takes into account the emotional and psychological effect of an event. In many ways, only narrative can fairly engage both historical record and the humanity behind that record. The stories in this collection are ones that not only suit me personally—as someone fascinated with multiple versions and personal perspectives—but also ethically, as the stories bring to light viewpoints perhaps previously ignored or unknown.

In the title story, the first perspective comes from a group of young surfer girls whose collective voice is brash, sassy, even angry. With a voice that strong, were you afraid readers might be intimidated?

I'm never afraid of a strong voice, but I was nervous about leading the collection with the title story. Those surfer girls are queen bees. They intimidate me!

When I was deciding which story should go first, I thought of how sometimes friends return from a vacation in Hawai'i and say, "The locals weren't very friendly. Why?" I realized, this is one experience people have of Hawai'i. So why not start there? Why not start with this negative impression, and then move to explain and complicate it?

I also loved how sassy those local girls are. Real titas, as my aunts would say. But for all their bravado and power, they are still young girls. They are experiencing a tragedy for the first time, having to question their role in it, having to ask themselves who they are. The story closes with them, and while their voice is still strong, it's not as harsh. As the girls evolve, so does their voice, and this allows a reader to better understand and empathize with them.

Speaking of voice, one of the ways your characters identify themselves is via their use of language. Why did you choose to layer in these different vernaculars and usages of language?

Language carries history with it. In my grandparents' generation, children were beaten if they spoke Hawaiian in school. So Hawaiian wasn't taught to my parents' generation. Pidgin, then, becomes central to the Hawaiian experience; it's a hybrid language that comes from the plantations, where Hawaiians, Japanese, Chinese, Filipino, and others first mixed. Pidgin is the plate lunch of languages.

I wanted to capture how important pidgin is in Hawai'i, and I wanted to pay homage to this language and its development, which one could see as parallel to the development of the islands. On Big Island the pidgin is really thick, and they use different vocabulary, often heavily colored by paniolo (cowboy) lingo. In Honolulu, the pidgin accent is lighter, less inflected. I grew up hearing Maui pidgin—mostly Wailuku/Kahului kind, different from even the Upcountry pidgin that someone from 'Ulupalakua or Makawao might use.

For me, "Wanle" delves most into this play with language. The title character chooses to tell her story in a more academic English, but she captures dialogue in pidgin, and the thickness of the accent shifts depending not only on who's speaking, but how emotional the character feels. For me, that was the ultimate expression of pidgin and what it could do, and Wanle embodied the possibilities of being fluent in both academic English and pidgin—just as she's fluent in both her father's world and her own.

Did you have to do any research to write these stories?

I did endless research on pidgin. I felt I had to get that right. I'd read pidgin grammar books (they exist!) and then I'd call my dad and have him read lines of dialogue for me, tell me if it felt right on his tongue. He was a great editor!

I wanted to get the details right in the action, too. I surf, so that's not research per se, but when I was editing "This Is Paradise," I'd paddle out and think, Is this how the girls would arch their backs? Do the waves really move in the ways I said they do?

Similarly, when I was finalizing "The Old Paniolo Way," I visited both a cow ranch and a horse farm in Nebraska City, Nebraska, where the respective owners showed me how their operations worked and introduced me to their herds. I was in Nebraska in January with the ground frozen solid and I was telling everyone it was research for a book on Hawai'i. They laughed hard at that.

Who have you discovered lately?

I just finished David Bajo's The 351 Books of Irma Arcuri, which was one of the sexiest books I've read in years. And then I was able to read an advance copy of Ben Stroud's Byzantium: Stories, which debuts this summer. His historical fiction is stellar; Cuba comes alive in smells and textures!
---

Miwa Messer is the Director of the Barnes & Noble Discover Great New Writers program, which was established in 1990 to highlight works of exceptional literary quality that might otherwise be overlooked in a crowded book marketplace. Titles chosen for the program are handpicked by a select group of our booksellers four times a year. Click here for
submission guidelines.