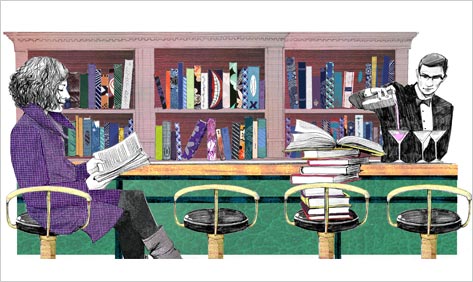 ( A Report on Elections and Ballot Initiatives inexplicably neglected by the networks, the newspapers, and the Internet)
THE PINEAPPLE INITIATIVE: Voters in Hawaii easily defeated a proposal to to require the state government to fund research that would develop a pineapple that "looks a little less like an obese hand grenade." Oahu Jones, a spokesman for the anti-Initiative Group "Pull the Pin." commented, "Thank God–the next step would have been to make avocados pink or bananas with non-slip peels.
ASSEMBLYMAN, 15 1/2 WARD, CHICAGO: Ron Perkowski, a champion of split-personality rights, defeated Ron Perkowski in a close election under careful observation by thje Civil Rights Group OMTV (One Man Two Votes). Eavch candidate accused the other of talking out of both sides of his mouth.
GOVERNOR., MIDDLE DAKOTA: This self-proclaimed fifty-first state, formed by the Lakota, Ricotta, and Anekdota Indian tribes, held a gubernatorial election between He Laughs like a Crazy Ferret and She Runs With The Bison From Time To Time, but a write-in candidate, He Does Astonishingly Little, won a surprising majority.
CALIFORNIA MOVIE AGENT REFERENDUM. Voters narrowly defeated a measure that would require Hollywood Agents to wear portable polygraphs at all lunches and require those who fail the tests to strap on "Pinnochio" noses for two weeks whenever they were in public. "Oh, yeah–I really wish that one had passed," said Harry Macher–who represents soap star Gillian McAroon–with a sly grin.
ARKANSAS STATE SONG REFERENDUM: Arkansans defeated a measure that would have replaced their state song, "Arkansas (You Run Deep in Me," by Wayland Holyfield with "The Arkansas Traveller." Exit polls indicated that voters rejected the measure largely because they heeded the ubiquitous "The Arkansas Traveler: He's From Out Of State!" posters.
DOGCATCHER, PODUNK, INDIANA: This hotly contested race remains too close to call. James Barker, who campaigned with the slogan "I'm Rabid About This Job," holds a slight lead over Fred Barclay, who promised "No Dog Left Behind." The Wrong Tree Association is overseeing the recount. In case of a tie, Podunk Mayor Ralph Taylor will cast the deciding vote.
RPG LAW, Hiyo, Wyoming: Voters upheld the ban on carrying rocket-propelled grenade launchers in public. "I just can't understand this one," said Sherman Tanque, a longtime crusader for the group called RPG[P] (Rockets Protect Good [People]). "Nine times out of ten, it's the weapons you can't see that will hurt you."
ELECTION BAN, Presque Isle, Maine: The advocacy group SOS (Save Our Sanity) got enough signatures to petition all governmental bodies to suspend all elections and replace them with games of Spin the Bottle, Red Rover, and One Potato Two Potato in order to choose government officials. "It makes just as much sense and is much more fun," said the group's chairman, Mark Chekoff.
Daniel Menaker is the Editor of Grin and Tonic.