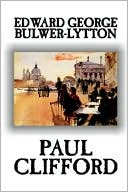 Edward Bulwer-Lytton died on this day in 1873. He was widely read in Victorian England and a friend to Dickens — it was Bulwer-Lytton who told Dickens that his proposed ending to Great Expectations was too bleak, causing Dickens to bring Pip and Estella back together. But Bulwer-Lytton is now mostly remembered for starting his novel Paul Clifford with "It was a dark and stormy night…," the rambling wreck of a first sentence that inspires budding parodists to enter the Bulwer-Lytton Bad Fiction Contest, this year celebrating its thirtieth anniversary. Below, plucked from this year's winners, a Dishonorable Mention in the "Detective" category:
The victim was a short man, with a face full of contradictions: amalgam, composite, dental porcelain, with both precious and non-precious metals all competing for space in a mouth that was open, bloody, terrifying, gaping, exposing a clean set of asymptomatic impacted wisdom teeth, but clearly the object of some very comprehensive dental care, thought Dirk Graply, world-famous womanizer, tough guy, detective, and former dentist. (Basil McDonnell, Vancouver, B.C.)
* * *

Rudyard Kipling died on this day in 1936. Kipling is included in the recent Oxford Book of Parody as both a parodist and a target. Below are the final stanzas from Henry Labouchere's "The Brown Man's Burden," written in response to Kipling's "The White Man's Burden," both poems published in 1899. Some read Kipling's poem as itself a satire; Labouchere's parody, like those written by other contemporaries, treats "The White Man's Burden" as earnest, imperial racism:
…Pile on the brown man's burden,
Compel him to be free;
Let all your manifestoes
Reek with philanthropy.
And if with heathen folly
He dares your will dispute,
Then, in the name of freedom,
Don't hesitate to shoot.

Pile on the brown man's burden,
And if his cry be sore,
That surely need not irk you —
Ye've driven slaves before.
Seize on his ports and pastures,
The fields his people tread;
Go make from them your living,
And mark them with his dead.

Pile on the brown man's burden,
And through the world proclaim
That ye are Freedom's agent —
There's no more paying game!
And, should your own past history
Straight in your teeth be thrown,
Retort that independence
Is good for whites alone.
---
Daybook is contributed by Steve King, who teaches in the English Department of Memorial University in St. John's, Newfoundland. His literary daybook began as a radio series syndicated nationally in Canada. He can be found online at todayinliterature.com.