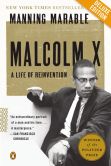 Malcolm X was assassinated on this day in 1965, gunned down as he prepared to speak before a political rally at Manhattan's Audubon Ballroom. Three members of the Nation of Islam, the religious-political organization from which Malcolm X had separated eleven months earlier, were convicted of the murder. The convictions were based on confessions, eyewitness accounts, and a series of fatwah-style threats by NOI spokesmen, but like much else associated with Malcolm X, controversy persists over who did the killing, who ordered it, and to what extent the FBI or NYPD were guilty of complicity or obfuscation.

The larger controversy over Malcolm X's enigmatic personality and evolving political views also persists. Manning Marable describes his bestselling Malcolm X: A Life of Reinvention (2011) as an attempt to track his subject's "layers of personality," as signaled by his series of chosen or bestowed names — Malcolm Little (his birth name), Jack Carlton, Rhythm Red, Detroit Red (all criminal aliases), Malachi Shabazz, Malik El-Shabazz (used while with the NOI), El-Hajj Malik El-Shabazz (used after he left the NOI), and others. Though convinced of his "strength and integrity…and the love he obviously felt toward the African-American people and their culture," Marable attributes Malcolm X's charismatic appeal to a shrewd, self-conscious style:
What made him truly original was that he presented himself as the embodiment of the two central figures of African-American folk culture, simultaneously the hustler/trickster and the preacher/minister. Janus-faced, the trickster is unpredictable, capable of outrageous transgressions; the minister saves souls, redeems shattered lives, and promises a new world. Malcolm was a committed student of black folk culture, and to make a political point he would constantly mix animal stories, rural metaphors, and trickster tales…. His speeches mesmerized audiences because he could orchestrate his themes into a narrative that promised ultimate salvation.
But biographer Marable is the trickster, says Jared Ball, co-editor of A Lie of Reinvention, a recent anthology of rebuttal essays. Jared's Malcolm X is a firebrand forged of "brilliance, complexity, foresight and militancy"; by filtering his subject through his distorting "social democratic lens," Marable creates a de-radicalized and "race-neutral" Malcolm X who "would likely be a member of Barack Obama's cabinet as opposed to having fomented a global revolution that would make even the existence of an Obama a political impossibility."
---
Daybook is contributed by Steve King, who teaches in the English Department of Memorial University in St. John's, Newfoundland. His literary daybook began as a radio series syndicated nationally in Canada. He can be found online at todayinliterature.com.