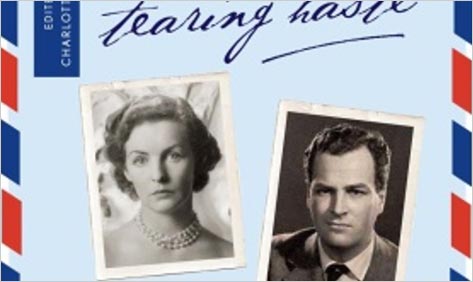 In thelibrary of Chatsworth, the seat of the Dukes of Devonshire, are two doorsdisguised as shelves of books. The second one was created in the 1960s duringrenovations, and 28 book-backs were made by Sangorski and Sutcliffe, the luxuryLondon bookbinding firm, for titles like Reducedto the Ranks by D. Motion, SecondHelpings by O. Twist, Dipsomaniaby Mustafa Swig, and The Battle of theBulge by Lord Slim. The last volume is BookTitles by Patrick Leigh Fermor, chosen to honor the inventor of the titles.For the travel writer and war hero had responded to the Duchess of Devonshire'sepistolary plea: "Now something really important" she prefaced therequest. His letter with the full list—anyone have a copy of First Steps in Rubber by Wellington?—isone of the gems of In Tearing Haste, the new anthology of Fermor and the duchess'scorrespondence.
They met in late 1940 at aregimental ball—she was then just Deborah Mitford, youngest of theover-discussed sisters, and ever known as Debo—but their friendship only tookoff in the 1950s, fuelled by their mutual high spirits and an endlesslyoverlapping set of friends. They met frequently in London or Paris, in one oranother of the Devonshire estates, or in some continental manse that Fermor hadfinagled. Their correspondence began as attempts to plan such escapades or tosay thank you for hospitality. But it grew over the years to become a record ofimpressions and pleasures shared. Fermor wrote to her about his far-flung travels,describing places and his joy in unusual facts, while Debo's short letters area caustic take on the modern aristocratic county life: endless royalsightings—the Queen Mum is always called Cake for the enthusiasm she onceshowed at a wedding—and shooting, riding, and agriculture.
Still,there is no denying that the correspondence is an unequal one. Fermor's bestletters are small versions of his great books—recounting two weeks hiking inthe Pindus Mountains, a car tour of classical ruins in southern Turkey,motoring down the Dalmatian coast, swimming the Hellespont, borrowing an oldOttoman house from the Greek foreign minister—and yet he will often insertindications of what Debo can skim over knowing her patience to be tried by hisflights of fancy. She continually refers to herself as not much of a reader,and Evelyn Waugh sent her a copy of his biography of Ronald Knox with theinscription, "To Darling Debo, in the certainty that not one word of thiswill offend your Protestant persuasion." The pages were blank, "justlovely sheets of paper with gold edges & never a word on one of them. That'sthe sort of book which suits me down to the ground." Happily Fermor'sletters suited her, too, and she hoarded them, allowing this charming additionto the too-small library of Fermoriana. As the correspondents are still goingstrong in their nineties, we can hope for more.