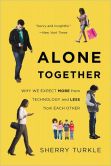 On this day in 1982, Time magazine announced that their "Man of the Year" was the personal computer. This was the first time the magazine selected a non-human for their award (the only other occasion was the choice of "Endangered Earth" in 1988), and given how digital culture has evolved since, perhaps "semi-human" would be more accurate. The following is excerpted from Alone Together, Sherry Turkle's recent analysis of how our "fully networked life" now interfaces with the non-living:
These days, parents wait in line to buy their children interactive Zhu Zhu robotic pet hamsters, advertised as "living to feel the love." And one of the hottest online programs is Chatroulette, with 1.5 million users, which randomly connects you to other users all over the world. You see each other on live video. You can talk or write notes. People mostly hit "next" after about two seconds to bring another person up on their screens. It seems right that Zhu Zhu pets and Chatroulette are the final "objects" I report on in this book: the Zhu Zhus are designed to be loved; in Chatroulette, people are objectified and quickly discarded. I leave my story at a point of disturbing symmetry: we seem determined to give human qualities to objects and content to treat each other as things.
---
Daybook is contributed by Steve King, who teaches in the English Department of Memorial University in St. John's, Newfoundland. His literary daybook began as a radio series syndicated nationally in Canada. He can be found online at todayinliterature.com.