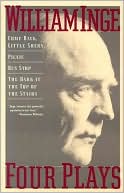 February 19: William Inge's Picnicpremiered on this day in 1953, running on Broadway for almost 500 performancesand winning a Pulitzer for Inge. With a string of other hit plays and moviesduring the fifties—Come Back, LittleSheba (1950), Bus Stop (1955), The Dark at the Top of the Stairs(1957), the screenplay for Splendor inthe Grass (1961)—Inge was one of the most famous mid-century playwrights.His biographers attribute his 1973 suicide to his despair over feeling unableto move on from his 50s hits, and to his deeply repressed homosexuality.
Hal, the bad boy-hero of Picnic, is a young drifter who has donesome time, but he hopes to "settle down, read all the better books, andlisten to all the better music." Plus, he can jitterbug like nobody's seenin this small Kansas town. When everyone piles into the cars with the casserolesand watermelons, heading to the Labor Day picnic, he is an option Madge canonly pretend to resist:
MADGE: I … get so tired ofbeing told I'm pretty.

HAL: (Folding her in hisarms caressingly) Baby, baby, baby.

MADGE: (Resisting him,jumping to her feet) Don't. We have to go. We have all the baskets in our carand they'll be waiting. (Hal gets up and walks slowly to her, their eyesfastened and Madge feeling a little thrill of excitement as he draws nearer)Really—we have to be going. (HAL takes her in his arms and kisses herpassionately. Then MADGE utters his name in a voice of resignation) Hal!

HAL: Just be quiet, baby.

MADGE: Really . . . Wehave to go. They'll be waiting.

HAL: (Picking her up inhis arms and starting to go off. His voice is deep and firm) We're not goin' onno goddamn picnic.

CURTAIN
Picnic wasPaul Newman's Broadway debut. He had hoped to play Hal, but the producersdoubted he had the physical presence or the talent. Also in the cast was JoanneWoodward—the two first met at the Picnic rehearsals—whowas sure on the second count: "When I first saw him act, I thought he wasterrible. And he was. Just a pretty face." But the two started to spendtime together, and if he was no bad boy Marlon Brando (whom Woodward was alsodating at the time), she was no bad girl: "The fashion was for little,dark neurotic girls from the wrong side of the tracks. The boys wouldn't go outwith anybody else. I tried to turn myself into that type, but it didn't work."
---
Daybook is contributed by Steve King, who teaches in the English Department of Memorial University in St. John's, Newfoundland. His literary daybook began as a radio series syndicated nationally in Canada. He can be found online at todayinliterature.com.