One of the last in the gallery of Innocents drifting, stumbling and charging through Mark Twain's books and talks is Joan of Arc, whom Twain regarded as "by far the most extraordinary person the human race has ever produced." Although he declared Joan of Arc the best of his books, it became one of his worst sellers, his readers unable to enjoy his idealized heroine, unaided by even the hint of a joke,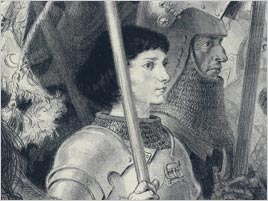 taking on "every advantage that learning has over ignorance, age over youth, experience over inexperience, chicane over artlessness, every trick and trap and gin devisable by malice and the cunning of sharp intellects practiced in setting snares for the unwary."
Joan of Arc was published while Twain was on his 1895-6 world tour, accompanied by his wife, Livy, and his second daughter, Clara. At the tour's end, the family waited in England for Susy, the oldest daughter, to join them from America. After several delays, and then a series of unclear but worrisome messages concerning Susy's health, Livy and Clara sailed home. They were en route, and Twain was alone, "standing in our dining-room, thinking of nothing in particular, when a cablegram was put into my hand. It said, 'Susy was peacefully released to-day.'"
Susy was Twain's favorite daughter, so admired that she was his model for Joan. He later wrote that he was able to bear the "thunder-stroke" of her death "as I bear all heavy hardships that befall me—with a heart bursting with rebellion." But Clara recalls that the event left him altered forever: "Thunderous outbursts of bitterness shading into rugged grief became characteristic. He walked the floor with quick steps and there was no drawl in his speech now." For Twain, casting his daughter as Innocence meant casting himself as its Guardian, and he suffered lifelong guilt for the financial mistakes which, as he saw it, set the world tour and the family tragedy in motion.
Susy was also Twain's first biographer. She began writing her secret portrait at thirteen, out of adoration and "because it trobles me to have so few people know papa [except as] a humorist joking at everything." She describes how her father wept as he read chapters from Joan of Arc to the family, and how he was "as much of a philosopher as anything." But she also describes her subject's flaws — he had bad teeth, a temper, and the restless habit of pacing "between each coarse at meals" — and she was no innocent hagiographer, especially after she knew that her subject knew that he was being observed, and was puffing himself accordingly:
I clearly remember that I was doing that—and I also remember that Susy detected it. I remember saying a very smart thing with a good deal of an air at the breakfast table one morning and that Susy observed to her mother privately a little later that papa was doing that for the biography."
---
Steve King contributes Daybook to the Barnes & Noble Review and teaches in the English Department of Memorial University in St. John's, Newfoundland. His literary daybook began as a radio series syndicated nationally in Canada. He can be found online at http://www.todayinliterature.com.