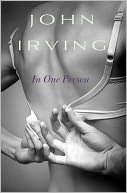 John Irving turns seventy today. In a publisher interview for his forthcoming In One Person, Irving was asked to comment on the presence in this new novel — his fourteenth, in a forty-four-year career — of "some of the classic signatures that your readers have come to expect to find in your books: wrestling, living abroad in Vienna, the loss of childhood innocence, an absent parent, New England boarding schools, sexual deviants…." Irving's answer distinguishes between "the 'themes' you choose" and "the obsessions that choose you":
Wrestling is something I know: I competed as a wrestler for twenty years; I coached the sport till I was forty-seven. The life in a New England boarding school, and living as a student abroad in Vienna — these are simply things I know very well.… But "the loss of childhood innocence," or "the absent parent," and those sexual outsiders and/or misfits I am repeatedly attracted to in my fiction — well, I do not choose to write about those things. Those things obsess me; those things choose me. You don't get to pick the nightmare that wakes you up at 4 A.M., do you?
Irving goes on to say that the new novel was written in his customary way — the ending and the entire plot worked out beforehand, his methods those of a Dickensian "dinosaur":
I'm not a twentieth-century novelist, I'm not modern, and certainly not postmodern. I follow the form of the nineteenth-century novel; that was the century that produced the models of the form. I'm old-fashioned, a storyteller.
The above is excerpted from Irving's 1986 Paris Review "Art of Fiction" interview. He tells a story there that suggests he also has an old-fashioned approach to manners. When teaching at the Iowa Writers Workshop in the mid-seventies, he offered to chauffeur J. P. Donleavy, a guest lecturer. Irving brought with him John Cheever, both of them Donleavy fans — until they picked him up. Attired in three-piece suit and walking stick, Donleavy scoffed at the notion of teaching writing, or reading contemporary literature, and generally behaved as if "unhappy royalty in a hick town":
Cheever tried a few times to engage Donleavy in some conversation, and as Cheever was as gifted in conversation as any man I have ever met, I grew more and more furious at Donleavy's coldness and unresponsiveness and total discourtesy. I was thinking, frankly, that I should throw the lout in a puddle, if there was one handy, when Cheever spoke up. "Do you know, Mr. Donleavy," Cheever said, "that no major writer of fiction was ever a shit to another writer of fiction, except Hemingway — and he was crazy?"
---
Daybook is contributed by Steve King, who teaches in the English Department of Memorial University in St. John's, Newfoundland. His literary daybook began as a radio series syndicated nationally in Canada. He can be found online at todayinliterature.com.