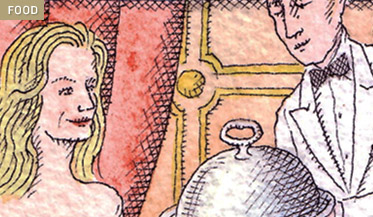 Towards the end of his European travelogue, A Tramp Abroad, Mark Twain grumbles that he hasn't had a satisfying meal since leaving America. He cannily but morosely offers up a list of 80 foods he plans to devour upon his return, a canon that includes catsup, boiled potatoes and ice water. "Foreigners," he intones, "cannot enjoy our food?any more than we can enjoy theirs. It is not strange; for tastes are made, not born."

One could argue that veteran restaurant critic Moira Hodgson was born with an appetite for new tastes. If ever there were a family perfectly suited to rear a burgeoning gourmand, it's hers. The eldest daughter of a British Foreign Service diplomat, Hodgson lived the first 15 years of her life in Egypt, Beirut, Sweden, Vietnam, Berlin, and London. In a nod to Proust's madeleines, she starts her first memoir, It Seemed Like a Good Idea at the Time, with a scoop of mint ice cream, which transports her back to the 1950s, dining at her French lycée in Stockholm.

Her book, a sweeping account of her life and travels that focuses on foreign foods, picks up at her childhood and unfolds chronologically, gaining momentum as it nears her grown-up culinary and romantic travails. But it's her childhood that laid the groundwork for Hodgson's good manners, which, even now, prevent her from saying an unkind word about anyone, or, like Twain, loudly complaining. Her parents belonged to a "hierarchical and class-conscious generation," and thanks to her father's job, they, along with their two daughters, led a life well beyond their means, with private schools and servants paid for by the government. Along with a collection of black-and-white family photographs, the book features menus from their 1957 cruise on the Victoria, a trip notable for Hodgson's exchange of playtime for fine dining.

After her family moved to New York when she was 19, Hodgson began working as a guide at the United Nations, where Che Guevara stopped by her desk to flirt. It was also during her tenure there that her father made a shocking confession to her about his career — though she hoards his secret until one of the final chapters. When they went through a volatile stage because of her father's adultery in New York, she moved out, freeing herself to make decisions about dinner and dating, even if they turned out to be a little rotten.

At 20, she landed the first of what was to be a long string of newspaper jobs, working as a secretary at the Herald Tribune . After the end of a long-term, transatlantic romance with Claudio, her louche ballet teacher, Hodgson met the poet W. S. Merwin at a dinner party. With little regard for their 18-year age difference and his (albeit unhappy) marriage, they fell in love. The two spent almost a decade together, most of it in San Crist?bal, Mexico, a move partly inspired by a visit to Wendell Berry's farm in Kentucky. "I'd be happy living off the land like that," Hodgson thought, if only she could have a child. But Merwin didn't want children. After their relationship went south, Hodgson headed north, settling back into Manhattan for a temporary respite from globe-trotting.

On a whim, after a chance meeting at yet another downtown dinner party, she moved to Morocco. Among the many recipes Hodgson scatters throughout her book, one she picked up from Paul Bowles stands out as the most accessible. She visited his house to find guests raving about his tea, which, he confided, was made with a Lipton's tea bag and lemon juice.

These days, there are dozens of salacious culinary memoirs: by waiters, chefs, actors, talk show hosts, writers who love to eat. But who doesn't enjoy eating? Unlike Bill Buford, who volunteered to work as a line cook in Mario Batali's kitchen for Heat, or Phoebe Damrosch, whose Service Included dished about her six-figure salary as a waitress at Per Se, authors who don't have secrets to spill face a particular challenge. It's easy enough to whip up enthusiasm when describing heated encounters with wildly eccentric celebrity chefs and diners, but how do food writers pique people's interest in their lives outside the kitchen? Hodgson's book is one possible answer — it's not rife with drama, but it is replete with good humor, reflection, and evocative remembrances of a life lived fully to the brim.

That said, a couple of notes for the cook are in order. The first is minor: while Hodgson relays her stories with relish, her title, unfortunately, is as uninspiring as a flat souffl?. She possesses so much enthusiasm it might have served her better to go for a name connoting warmth and curiosity instead of mild regret. After all, she's spent her life uncovering new experiences and recipes, consistently happy to experiment.

More substantively, it should be noted how deftly Hodgson skates around personal territory without ever getting? personal. She writes of a moment at age 34, for instance, just before she had surgery to remove her left eye because of a tumor, in which she looked in the mirror and thought, "Goodbye eye." The very next paragraph describes the cranberry sauce (purchased from Harrods) that she ate at Thanksgiving dinner three days later. There's no relaying of pain, no gruesome detail. Here, as well as in the accounts of her romantic break-ups, Hodgson skims off the sadness to focus on the menu. The result for readers is the memoir equivalent of comfort food.

This emphasis on appealing presentation is perhaps related to her similar focus in her kitchen. Decades ago in New York, when she invited friends over for roasted pig and discovered at the 11th hour that it was too large to fit in her oven, she carried on with confidence, sawing the pig in half. To conceal her butchery, she served it with a band of colorful flowers around its middle, sparking one of her guests to remark, "It's like a Hawaiian luau."

"No one was any the wiser," writes Hodgson. Dinner, she avers, was delicious.