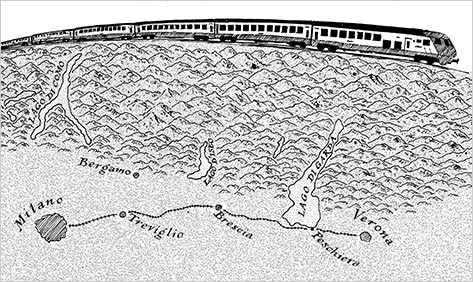 Tim Parks, Englishman, novelist, memoirist, essayist, translator, and teacher, has been living in Italy for over thirty years. A considerable part of that time has been spent on trains and, as an adjunct, in mastering the country's byzantine canons of ticketing. In fact, one does not get far in Italian Ways: On and Off the Rails from Milan to Palermo before getting a good idea why this fine writer — shaped as he was by an Anglo-Saxon, commonsense view of the world and afflicted with a congenital streak of impatience — suffered for so many years from appalling tension-related pain in his vital parts (described in macabre detail in his Teach Us to Sit Still, 2010). The task of getting the right ticket in the appropriate form stamped correctly for the proper species of train going where you, too, would like to go involves the sort of rigmarole of which anxiety dreams are made and demonstrates as clearly as anything else in these engaging pages that, as Parks puts it, "Italy is not a country for beginners."

The taxonomy of the trains and the casuistry of their ticketing take up a good many of the book's pages — too many, you might begin to think, until you see that without entering into these mysteries you can't properly enjoy the vexations created by the intricacies and non sequiturs of the regulations. Indeed, so arcane is the science of purchasing the correct ticket from an Italian automatic ticket machine that it has spawned a small industry for Slav children who hang about, helpfully officiating over the complex ceremony for a small tip. Nor could you fully appreciate the changes being wrought to advance the global segregation of rich and poor (who had previously been treated as if they "actually belonged to the same species").

Trenitalia, the state-run system, and its trains have changed over the years — for better and for worse — as explained in ferocious, often amusing detail by Parks. Trenitalia's trains are now divided into the Interregionale or Regionale, designated unfondly by our guide as "the train of the living dead;" the express Intercity; the high-speed Eurostar; and the ultra-high-speed Freccia, which, itself, comes in two expressions of swiftness: Frecciarossa (200 mph) and the Frecciargento (150 mph). Not only does the whole system run at a mounting loss, but money has been taken from regional service and put into building the infrastructure for the ultra-high-speed trains serving wealthy people whose time is, presumably, more valuable and whose destinations are more important. This, of course, is the way of the world in the twenty-first century; but as with everything Italian, there is an entertaining exception to the preferred treatment given to the well-heeled. Unlike in the U.S., where the privileges of private enterprise trump the necessities of public service, the new privately owned ultra-high-speed train, Italo, is made almost impossible to find and difficult to board, as a way of nobbling competition with Trenitalia.

Parks, who has an unmistakable taste for dualities, finds them everywhere in Italy, not least in the railway system — as good a place as any to fulfill his goal of capturing "the Italian way of doing things." In the first place, the railway both unites the country as a nation and "allows it to remain fragmented." Italy, he points out, is still essentially a collection of city-states whose citizens find a primary identity in their hometowns, places where they insist on living no matter where they may work or attend university. The result is a nation of heroic commuters living "double lives."

Strangely, for a book set in Italy, this one has little time for food — except in the form of laments over vanishing graciousness in its service for travelers — or for living arrangements, scenery, and the rhythm of days. The world outside stations, platforms, and railway carriages only becomes a real presence once Parks ventures to the South, a part of Italy that he, as a resident of Verona and like most northerners, knew little. ("The South is always present to us as an idea — a bad one.") His trip — from Rome down the coast, over to Sicily and back, hitting the instep at Crotone and the heel at Lecce — is a journey into both the past and an abortive future. Instead of encouraging tourism, the region opened itself to brute industry, now failed or environmentally disastrous. Traveling up by train from Crotone, Parks gives us a passenger's-eye view of the South: "Beaches. Bleached-white riverbeds. Mile after mile of olive groves. The Gulf of Taranto, empty sand with clear blue seas. Kiwi plants, row after endless row of them. Field after field. Broken walls. Stazione do Torre Melissa. Vineyards. Promontories with gray rock against blue sea. Stazione di Cirò. The capotreno's whistle. An ancient tower on a low hillside. Squat, square masonry. Abandoned factories. Cactuses and scorched grass. Stazione de Crucoli. Graffiti: 'Ti penso sempre, amore mio.' "

Parks's novelistic talent is much in evidence in vignettes of life aboard trains. In addition to the incidental talkers, eaters, cell-phone exhibitionists, and other villains whom he meets in his journeys, two notorious characters pop up in these pages: the "pignolo" and the "furbo." The former — whose ranks include certain railway officials with whom Parks has had vividly recounted imbroglios — is "someone who will apply the rules most determinedly, even when, or perhaps especially when, they are most inappropriate." The furbo, on the other hand, is "the sly one," whose most characteristic act is jumping the queue at a ticket window. In this country, that crime would bring out the vigilante in most people; in Italy: "Nobody shouts. There is a slow, simmering resentment, as if the people who behaved properly are grimly pleased to get confirmation that good citizenship is always futile, a kind of martyrdom. This is an important Italian emotion: I am behaving well and suffering because of that…. Mi sto sacrificando."

Parks sums up the duality that runs right down the middle of the Italian psyche in a contemplation of sometime prime minister Silvio Berlusconi's smile: "What a strange mixture it was, I thought, of comfortable self-congratulation (I'm a hugely successful man, you can rely on me) and victimhood (I am a scapegoat who has been treated badly), as if he were both a first-class Freccia traveler and a long-suffering victim standing in the corridor of a packed Regionale. Quite how Berlusconi manages to convey these contradictory impressions I'm not sure, but they seem to contain a paradox essential to the contemporary Italian mind-set: we are simultaneously well off and not well off; we deserve excellent services but we are already paying too much for them; we are confident and hard done by."

It is a prejudice and a generalization, but in a long reading life I have noticed that English writers, however critical they may be of their own country, never quite lose their native astonishment and sense of affront at foreignness, at being Abroad; but, in the case of writers with a strong comic sense like Parks, they are also aware and amused by the preposterousness of their own reactions. Parks's exasperation with his adopted country rises in brisk little gusts throughout the book, but it is abundantly clear that he loves Italy and its people, and he stands in happy wonder at the Italian frame of mind, one unfazed by inconsistency and flat-out contradiction. When he presents the resulting practical annoyances, it is with a connoisseur's relish. Italy, he says in one of his many trenchant assessments, is "a nation at ease with the distance between the ideal and the real." It is Parks's mixture of love and irritation, summary judgment and self-deprecation, acute observation and strong point of view, that makes this the wonderful book that it is.
Map illustration appears courtesy of David Atkinson, Hand Made Maps.