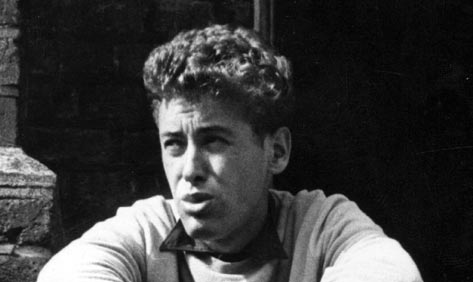 Scandinavians must be sick and tired of everyone else in the world commenting on the darkness of their literature, the melancholy, the angst, the loneliness, the blah blah blah.

Per Petterson's books are eerie, it's true; a voice echoing across a ravine. But his characters are no more alienated than those in American or British literature. We think we hear the ringing sound of cold air; we think we feel the stab of arctic wind in our lungs; but it's modern life, here, there, and everywhere that grabs us by the throat. And while Out Stealing Horses — written in 2003, published in English in 2005 — has been Petterson's most widely read and decorated novel (he has called it a "freak accident"), they are all unforgettable.

Audun Sletten is thirteen in 1965, when Petterson's It's Fine By Me opens. He is working class and proud of it: the son of a quiet, opera-loving mother and a brute of an alcoholic father, who, thank god, has gone to live and drink himself to death in the woods. His sister Kari is four years older and has fallen in with a charmer whom Audun nicknames James Dean, or "JD." Nicknames are classic Petterson — he sneaks a reader into his world with codes, references, nicknames, until we share Audun's likes and dislikes — his outrage and his claustrophobia:
I am tired, I still have homework to do and a sinking feeling in the pit of my stomach tells me something at school is not going the right way. What I do, I do well enough. What I hear, I remember and understand, I am not an idiot, but it's as if the rest of my class has taken off on some journey they forgot to tell me about, as if there is a secret pact between teacher and students that does not include me.
Audun's brother Egil, two years older, has just died after driving JD's car into a river, and Audun is haunted but too imbued with teenage cool to speak of it to anyone. Audun's best friend is Arvid, a character who appears in most of Petterson's books, so often that the writer calls him "my stunt man" in interviews. Arvid is the voice of reason, also from a working-class home but a home full of books. Vietnam rages in the background, and Arvid tries gently to pull Audun into the local chapter of the anti-imperialist NLF party. Audun is not a joiner, but like his friend he is a reader, familiar with the work of anti-colonialist economist Jan Myrdal, Maksim Gorky, and above all, that great chronicler of lost boyhood, lost nature, lost human nature — Jack London.

Everything is shifting under their feet. Farms are being swallowed up by spreading urbanism — there's a nostalgia for "thatched houses and log walls and attics and birch trees right outside your window and meadowland where the wind and the rain sweep across the tall grass in one long, surging swell and make you think of films you have seen and of walking barefoot, and then it painfully passes and is squeezed into a funnel with only one narrow way out." Religion proves more useless every day — the minister who presides at Egil's funeral doesn't seem to have a human clue. And education doesn't hold any keys to a happy future, either. So Audun, with one year left of school, drops out and goes to work as a pressman. Turns out that's not much fun, either.

Audun has the soul of a poet. He wants to be a writer, but he's so busy building defenses against the pain adults have strewn in his path that there's no time for it. "The teachers live in their terraced houses, and a few writers, too: Tor Obrestad, Einar Okland and Paal-Helge Haugen. Like birds on a wire, they sit in their windows looking up to the sky with the sun on their faces, holding on to the secret, and I envy them so furiously it makes my legs tremble." What you will remember about Audun is a quality that you can see in the faces of young men (and women) everywhere: toughing it out but more than a little bit lost.

It's Fine By Me was written in 1992, two years after Petterson's father, mother, brother, and nephew were killed when an overnight ferry from Oslo to Denmark caught fire. It has been translated brilliantly by Don Bartlett. You can hear echoes of some of Petterson's favorite writers: Jayne Anne Phillips (Machine Dreams inspired him to write), Raymond Carver, and the early work of Knut Hamsun. But the voice is unique, solid, and above all, alive. Whatever angst there is has nothing to do with being Scandinavian: It has to do with being human.