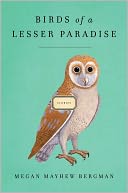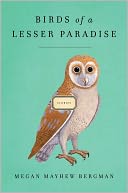 Dear Reader,
Twelve luminous, heart-wrenching short stories capture the almost inexplicable pull of the natural world on our emotions and decisions about motherhood and marriage, aging and death, the desire to love and be loved — and clearly mark the start of a great career for Megan Mayhew Bergman.
I was reading Megan's blog not long ago, and this opening line caught my attention:
"It's funny, the way we come to books," she writes.
She goes on to explain how she was introduced to West with the Night — a book I read and re-read countless times in high school (controversy and all) — and I asked her if we could excerpt what she had to say on The Discover Blog.
Megan continues:
"My mother-in-law had the widest appetite for fiction; she would read anything, and did. She adored science fiction, and occasionally offered a book with a dragon on the cover of it to me, but I claimed to have a pointy-ear litmus test for books. Maybe I shouldn't, but I still do.


Two years after she passed away, I finally read her favorite book, which, I must tell you, is one way to feel close with someone after they've gone, especially someone so avid a reader. I imagined which passages she liked, and which ways she'd connected with the protagonist. There aren't many women I've met brave enough to fly small planes over the African bush, but let me tell you, my mother-in-law was one of them. West with the Night stunned me with its beautiful prose…and then days later, its enormous controversy.

…Then I read the blurb on the back of the book by none other than Hemingway, taken from a letter to Maxwell Perkins:

'…As it is, she has written so well, and marvelously well, that I was completely ashamed of myself as a writer…she can write rings around us all…. The only parts of it that I know about personally, on account of having been there at the time and heard the other people's stories, are absolutely true…. I wish you would get it and read it because it is a really a bloody wonderful book.'

All this praise from Papa for a woman? (Of note, the part he mentioned about Markham being a "high-grade bitch" was omitted from the blurb.)

And if Papa's slobbering wasn't enough to hold my attention, the prose in the first chapter of West with the Night was. The first pages made me ache with writer's envy…that colorful life, the author's elegant and worldly detachment posited so crisply on the page…"
Read more at Megan Mayhew Bergman's blog here.
Cheers, Miwa
---

Miwa Messer is the Director of the Barnes & Noble Discover Great New Writers program, which was established in 1990 to highlight works of exceptional literary quality that might otherwise be overlooked in a crowded book marketplace. Titles chosen for the program are handpicked by a select group of our booksellers four times a year. Click here for submission guidelines.