Five essential reads from one of the defining voices of a century.
---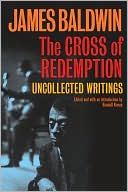 The Cross of Redemption:
Uncollected Writings
James Baldwin, writes Andrew Seal, was among the most "naturally eloquent" of American writers; his essays are examples of the form taken to its highest level of expression. This fascinating collection of occasional pieces, book reviews, transcribed speeches, and interviews gives readers a rare chance to view a virtuoso in "rehearsal" for more ambitious works.
---
First published in 1955, Notes of a Native Son brought together ten of Baldwin's essays from Harper's, The Partisan Review, and elsewhere, proving that the still-young writer was already one of the defining critical minds of mid-20th-century America. "He named for me the things you feel but couldn't utter," Henry Louis Gates has written. "[His] essays articulated for the first time to white America what it meant to be American and a black American at the same time."
---
Baldwin's powerful first novel uses the stories of the Bible as touchstones as he unfolds the lives of a 1930s Harlem family, whose collective experience reaches back to the trauma of slavery in the not-too-distant past. The struggle of Baldwin's protagonist John, who must grapple with the religious dictates of his preacher father, closely echoes the author's own personal history and quest for a spiritual liberation.
---
Upon leaving the authoritarian constraints of his family home in the 1940s, Baldwin initially settled in Greenwich Village, and the bohemian milieu he encountered there planted the seeds for a novel he wouldn't finish until 1962, when the counterculture was on a collision course with mainstream America. The life—and death—of a jazz drummer provide the pulsing heart of a novel in which sex, love, madness, grief, and the pursuit of artistic dreams are fashioned into a multi-voiced threnody.
---
The writer of these essays is a more settled, but no less trenchant observer than the younger man who penned the pieces in Notes of a Native Son. Though the topics include Harlem housing projects and the rise of Muslim culture within black America, Baldwin's most penetrating work here is in his portraits of fellow artists such as André Gide, Ingmar Bergman, and Richard Wright. His sensitive account of his friend Norman Mailer ("The Black Boy Looks at the White Boy") is a high point.