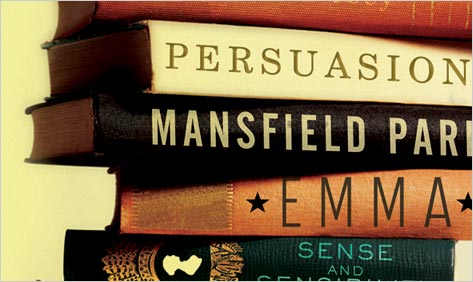 When Jane Austen died in 1817, she was an obscure unmarried daughter of the manse with limited means who had published four novels anonymously and had two more on the shelf. But by the mid-twentieth century, people on both sides of the Atlantic were vying over a lock of her hair, and by 1995 an early copy of Pride and Prejudice sold for £16,000 and Austen's shade shared an Oscar (if not, alas, the profits) with Emma Thompson. Claire Harman has written a number of fine biographies on now obscurish writers — Sylvia Townsend Warner, Fanny Burney — but now, in Jane's Fame, she takes on a biggie. What is it about Jane Austen that has slowly but apparently inexorably led her to conquer the globe?
Since Harman's focus is not so much Austen herself as what people have made of her, she has written a reception study a bit like S. Schoenbaum's classic Shakespeare's Lives. Was the English historian Thomas Babington Macaulay the first person to compare Jane Austen and William Shakespeare? In 1843 he wrote:
Shakespeare has neither equal nor second. But among the writers who… have approached nearest to the manner of the great master, we have no hesitation in placing Jane Austen.
By 1847, G. H. Lewes (perhaps better known as Mr. George Eliot) elevated Jane to an equal level with William: she was "a prose Shakespeare." Lewes particularly admired her as one of "the greatest painters of human characters, and one of the writers with the nicest sense of means to an end that ever lived." (Charlotte Brontë, the recipient of this opinion, wasn't buying it.) Tennyson thanked God for another similarity between Shakespeare and Austen: no surviving letters meant they couldn't be "ripped open like pigs."
Unbeknownst to Tennyson, some of Austen's letters do survive, and they join her early writings and even her marginalia in shaping Harman's case study.
In two brisk and stylish chapters Claire Harman traces the known facts of Austen's quiet life and the history of the composition and publication of four of the six novels she completed during her lifetime. Then, in the remaining five chapters, she shows how in two centuries Jane took over the world.
Or, perhaps, in Harman's view, how two versions of Austen have taken over two worlds. The first Austen, in the Victorian novelist Margaret Oliphant's words, is "calm and cold and keen," showing a "fine vein of feminine cynicism." She does not set out to flatter the sympathies of her audience. This is the Austen who is most often found in scholarly works — she got her first dissertation, by a Harvard friend of Henry James, in 1883. Harman is suavely comfortable in anatomizing the variants and vagaries of this Austen, even when they are irresistibly tease-worthy (such as a whole book devoted to the first sentence of Pride and Prejudice).
The second Austen has somehow morphed to fit "the requirements of the mass market." This Austen inspires romantic tchotchkes, the wet shirts of Colin Firth's Mr. Darcy, and, I presume, the zombies and sea monsters of Quirk Publishing's Monkees-like venture into Austeniana. Harman sometimes seems to hold her nose at the cosy "dear Jane" fans. She's far more forgiving of the men in the trenches of WWI who found comfort in this view than of 21st-century online commenters or the denizens of fan zones, such as the compendious website The Republic of Pemberley. Throughout the book, she bristles indignantly whenever she thinks she sees "a woman of extraordinary talent and originality being patronized by nincompoops."
But even two Austens may not be enough to take over the world. Perhaps "part of the reason why she pleases us so much now is that she was, for years, pleasing only herself." Or perhaps "because she comes from our own [middleclass and middlebrow] ranks and rocks no boats." Perhaps because she's a good plotter, and an entertaining non-didactic moralist — and she writes romances, which we all secretly like, even if we're supposedly too well-educated to admit to. Or perhaps…
Well, pay your money and take your chance here. But Harman's great strength is in providing a wonderful range of voices on Austen, pro and con, genteel and Marxist. Fans include Kipling, Siegfried Sassoon in the trenches, and, in jail, both the radical Félix Fénéon and the gay Oscar Wilde. I was enthralled by the cultural revelations in Harman's section devoted to the early Austen editor R. W. Chapman — and to his wife, Katharine Metcalfe. Harman's thorough notes ensure that any appealing bits can lead on to more. On Metcalfe and more, I'm planning to read Kathryn Sutherland, one of the finest current Austen scholars and one to whom Harman is much indebted; on the fanfiction front, I'll search out Sybil G. Brinton's 1913 book, Old Friends and New Fancies, in which, apparently, all the unmarried characters from various books get tidied away. Austen's small world — her "3 or 4 Families in a Country Village" — turns out to be a pretty big tent, sizable enough to have a great party in.