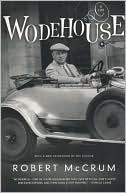 June 28: P. G. Wodehouse made the first of his infamous "Berlin Broadcasts" on this day in 1941. When World War II broke out, Wodehouse had blithely remained in his Normandy home until it became too late to avoid the advancing Nazis. At first, he and his expatriate golfing buddies were forced to report daily to the local Kommandant, but this proved to be merely "the hors d'oeuvre in Fate's banquet." By early September he was interned at a converted lunatic asylum near Auschwitz, and by Christmas the world was reading jocular interviews with this most famous of literary captives.
So was the German propaganda machine. Once they realized that Prisoner 796 was not "Widhorse" or "Whitehouse"—apparently this last mispronunciation, misheard as "Lights Out!" by the other prisoners, often led to comedy—the Nazis had little trouble turning him into a useful weapon. Seeing an opportunity to show a human face to the world, and hoping thereby to keep America out of the war, they invited Wodehouse to make a series of radio broadcasts describing his confinement under conditions so pleasant and humane that he had even been able to write a novel. Wodehouse readily accepted because, as one biographer puts it, he was "inappropriately equipped" to see anything but an opportunity for humor. His first broadcast attempted to set the jocular tone with which he apparently hoped to entertain the Allied world:
Young men, starting out in life, have often asked me 'How can I become an Internee?' Well, there are several methods. My own was to buy a villa in Le Touquet on the coast of France and stay there till the Germans came along. This is probably the best and simplest system. You buy the villa and the Germans do the rest….
Wodehouse went into Nazi confinement just after Churchill had offered his "blood, toil, tears and sweat" as the appropriate gift of a patriot. The Blitz had just ended when the Nazis aired Wodehouse's first talk. The idea that war might be funny or even "quite an agreeable experience" went over in England like a squadron of Luftwaffe bombers. George Orwell and many others excused Wodehouse as a man so constitutionally humorous and so permanently lost in Jeeves-Woosterland that he could not be held to political account, but this did not stop the government inquiries and the prolonged international denunciations of him as "Goebbels' stooge."
---
Daybook is contributed by Steve King, who teaches in the English Department of Memorial University in St. John's, Newfoundland. His literary daybook began as a radio series syndicated nationally in Canada. He can be found online at todayinliterature.com.