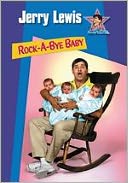 Recently some friends and I were discussing entertainers who had exceedingly long careers. A consensus emerged that George Burns, with over ninety active years in the biz at the time of his death at one hundred years old, had established a record that was hard to beat. But other performers, mostly now departed, have exhibited similar longevity.
Still with us, happily, is a comedian whose long, varied career has gone largely unremarked—if not entirely unappreciated—due perhaps to a certain appeal deemed superficially lowbrow. Jerry Lewis began performing with his vaudevillian parents at age five, and turns eighty-six in March of this year. His first film in fifteen years, Max Rose, is in post-production. George Burns had better stop polishing his longevity halo and get ready to be dethroned.
Synchronistically, three of Lewis's films are just now receiving their first US DVD release from the spunky, adroit and eclectic distributor Olive Films, allowing us to savor Lewis's accomplishments anew. (The prints are crystalline, the extras nonexistent.) Two of the films hail from the initial exploratory years following the breakup of the Lewis and (Dean) Martin team, while the third derives from a period when Lewis was striving to transition out of that self-created but already constricting solo niche, which had probably reached its apex in 1963 with The Nutty Professor.
Astonishingly, in terms of artistic productivity, Rock-a-Bye Baby and The Geisha Boy were both released in 1958: the first in July, the second in November. Two thematically allied but utterly individual films, they were both directed by Frank Tashlin, whose experience working on frenetic Warner Brothers cartoons and gag-writing for Bob Hope and others proved just the right complement to Lewis's naïve, goofy, slapstick onscreen persona. Tashlin directs his star nimbly and intimately. Sight gags are composed and shot with utmost clarity and impact. Quiet moments come across effectively. And the editing is quick and fluid without being herky-jerky, chaotic or breakneck. Tashlin and Lewis would collaborate on six films together, and they hit it out of the park each time.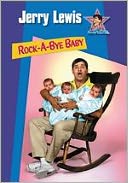 Rock-a-bye Baby is very, very loosely based on the Preston Sturges film, The Miracle of Morgan's Creek. The plot elements of an inconvenient pregnancy and a stand-in father are about all that remain. Beyond that, the film is pure Lewis. Portraying a small-town TV repairman hopelessly in love with a home-grown Hollywood starlet (Marilyn Maxwell), Lewis finds himself taking care of the actress's barely legitimate triplets until she can free herself of contractual obligations and reclaim them. The star's plain-jane, stay-at-home sister (Connie Stevens) finds her own affection for Lewis thwarted at every turn.
This story allows Lewis to do plenty of his trademark physical comedy, starting with a frenetic set piece involving swinging from a TV aerial and battling a runamok firehose. His loose-limbed, spastic, knock-kneed physicality is a superb instrument on which he plays many a pratfall. Jerry's facial expressiveness and mimicry get full range, including a bit where he recreates an average night's broadcast fare inside the shell of a television; later, he delivers his best Bill Haley & His Comets impersonation. (The movie is a tuneful musical that finds Jerry doing a credible job on several catchy songs.) A layer of real pathos and vulnerability is achieved as Jerry declares that taking care of the triplets is the only chore that's ever validated his uninspired life: the same theme we'll see in The Geisha Boy.
Finally, the film features a certain knowing artifice and satire about itself and society. The opening credits find Lewis in a tux, on some Hollywood backstage, singing the title song, almost as if to say, "Here's the real me." The town of Midvale is a kind of proto-Trumanville, with a statue on the town green that bears the generic legend MIDVALE HERO. Jerry's landlady has been hypnotized by her television, performing any action that commercials dictate. And of course, the fake life led by the triplets' Hollywood mother is merely a different grade of corporate imposture.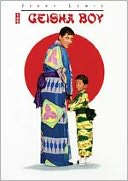 The Geisha Boy, whose misleading title fails to convey the true tone of the film, does not deal with imposture per se. But it does display as an embellishment to its main narrative a kind of Monty Python-style surrealism that calls into question the seriousness and solidity of consensus reality.
This time around, Jerry is a struggling stage magician, "The Great Wooley," whose best and only friend is Harry, the personable white rabbit in his act. (Harry's involved in a variety of silly special-effects stunts that must have derived from Tashlin's time with Bugs, and secretly delighted the director.) Desperate for a break, Wooley lands a gig with the USO on a trip to Japan. Under the aegis of Sergeant Pearson (a smoldering twenty-one-year-old Suzanne Pleshette), Lewis will make every misstep possible, eventually earning an exile from the main troupe to wartime Korea. But redeeming his foreign misadventures is his relationship with a young Japanese boy (Robert Hirano) and the boy's beautiful aunt (Nobu McCarthy) and her father (Sessue Hayakawa). Again, Lewis serves as surrogate Dad to Hirano, and eventually his whole future is determined by the relationship.
Tashlin stages great comic scenes again, the chief of which is a sauna flooding a whole street. The director discloses Sessue Hayakawa building the Bridge over the River Kwai in his backyard garden. Lewis's doubletakes and exasperations and frights are exemplary. He breaks the fourth wall, and hallucinates the Paramount logo atop Mount Fuji. But the bits where he's trying to do his act for besieged frontline soldiers in Korea approach an absurdist brilliance that presages M*A*S*H. And believe it or not, there's only one moment of cheap singsong "Oriental" pidgin talk.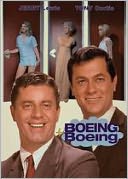 If Lewis was stuck playing a "younger brother" to Dean Martin during their time together, this search for a responsible fatherhood serves as allegory for finding his own solo artistic footing. But in 1965's Boeing Boeing, Jerry's gone all the way through responsible fatherhood to Divorced Singles Bar Guy, or perhaps he's stalled out regressively at his Young Man Sowing Wild Oats phase. The movie offers him a role that must have felt like a way to stretch or revamp his image, but one which doesn't do his talents full justice.
The film derives from an honest-to-goodness French stage farce—touted by the Guinness Book recordkeepers as the "most-performed French play ever"—which received a revival a few years ago on Broadway. The story concerns an American journalist (Tony Curtis) stationed in Paris who keeps a harem of three stewardesses rotating unknowingly through his bachelor apartment—one British (Suzanna Leigh), one French (Dany Saval), one German (Christiane Schmidtmer)—traffic-managed by housekeeper Thelma Ritter. Jerry Lewis is a visiting pal who complicates matters.
The film definitely belongs to Curtis (and to a lesser degree to wry Thelma Ritter). Second-banana Jerry doesn't even appear until we're deep into the setup and the unfolding lady trouble. And while Lewis does convincingly portray an earnest young horndog, he cannot match Curtis's unflappable, egocentric, masochistic machismo. Also, he's tossed away all audience sympathy. In Baby and Geisha, Jerry was the Holy Fool, the only or main innocent and unselfish person among a host of self-servers. Here, his actions and motivations are, though comedic, basically odious: a low-key Buddy Love triumphant. And except for one brief moment involving some luggage, Lewis eschews physical buffoonery, abandoning one of his trump cards.
Director John Rich does a competent job with slamming doors and racing taxis, but he's no Tashlin. His long list of credits is almost exclusively in television. And the theatrical parameters of the original source material limit the visuals. As for the female roles—well, the women are all tough, spunky caricatures, whose carnal dimensions appear under their names in the opening credits. 'Nuff said!
These three long-inaccessible films present a very welcome chance to reassess Lewis's comedic genius from multiple angles, even if one perspective is anomalous at best.
---

Paul Di Filippo's column The Speculator appears monthly in the Barnes & Noble Review. He is the author of several acclaimed novels and story collections, including Fractal Paisleys, Little Doors, Neutrino Drag, and Fuzzy Dice.