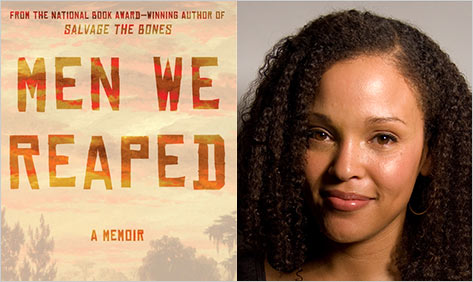 Readers of Jesmyn Ward's National Book Award-winning Salvage the Bones already know how harrowing the stories she tells can be. That novel followed a family living in the path of Hurricane Katrina – and before the arrival of the storm, numerous devastations have already befallen them. Her new book, Men We Reaped, turns away from fiction to draw more directly on the writer's own life, as well as the lives and deaths of five men, including her brother. The book that emerges may be hard to classify, but it's unquestionably powerful: Ward marshals the history family and community through the accumulation of small, potent details.
More than a memorial to lives tragically cut short and a portrait community dealing with their loss, Men We Reaped takes on broader societal concerns, exposing tears in the social fabric too easily overlooked. That blend of memoir, reportage, and political extrapolation has a long and storied history – George Orwell's Down and Out in Paris and London comes to mind – and Ward's book makes it clear why this form remains essential.
I talked with Ward via email to discuss the origins of her new book's title, the ways in which her personal geography has affected the settings of her fiction, and how myths and archetypes continue to inform her writing.
The Harriet Tubman quote that gives Men We Reaped both its title and one of its epigraphs is immediately striking. I was wondering where you first encountered it, and when it was that you knew that it would apply to your memoir.
I first came upon this Harriet Tubman quote online, actually. When beginning a book, I'll often search for epigraphs in the hope that I can find a few that will serve as clues or hints of what will come in the rest of the book. "We saw the lightening and that was the guns; and then we heard the thunder and that was the big guns; and then we heard the rain falling and that was the blood falling; and when we came to get in the crops, it was dead men that we reaped." It's difficult not to be moved by this—that was my first reaction to it; and I love her use of metaphor. Also, I wanted to make the sad connection between that war, the Civil War, and the unspoken war against young Black people in the United States today. And to refer to the era of slavery, from whence all of our national issues of racism began, and from which my family and our problems grew.
Men We Reaped features two parallel timelines, moving in chronological order through one series of events and in reverse order through the other. How did you arrive at the structure of your memoir?
Because this tells my story, my family's and community's story, and also the stories of five dead young men, it was not an easy book to structure. When I first started thinking about it, I knew it had to end with my brother. That was the hardest of the deaths for me, as he was the closest. Chronologically, however, his death was the first. So I decided to tell my family's story and my story moving forward through time, ending just before my brother died. I then revisited each of the five young men who died, moving backward in time, from the last death to the first, with the hope that when the two stories met with my brother, this most impactful moment in my life, I'd better understand why all of this happened.
Beyond the story of your life and the lives of the five men at the book's heart, Men We Reaped has a sociopolitical aspect as well, particularly as with the statistics about race and poverty cited in the book's conclusion. At what point, as you wrote and edited it, did you realize that this additional dimension was needed?
In a way, the whole purpose of the book is to humanize the statistics we all read in the newspaper. Out of context, they're so easy to dismiss. That's why I wrote Salvage the Bones, at least in part, so people would understand why some families stayed put during Hurricane Katrina. That's why I wrote this memoir. I wanted to say, hey, we're not numbers. We're here, we're human beings. We have families and jobs and fun and sorrow, just like everyone else. The final chapter of the book, "We Are Here," is really my reckoning with all the loss and the reasons for it. And it's only here that I bring in the statistics, as a way of making the individual story more universal. As a way of also saying, we are many. Too many.
In the section of the book focusing on Demond Cook, you talk about how, at the time, you told friends and relatives that you didn't write about "real-life stuff." You have since written realist fiction and nonfiction; what ultimately changed your mind?
For me, there's a distinction between "real-life stuff" and realistic fiction. My two novels were definitely drawn from my life and my community, but they were works of imagination. They were fiction, albeit of a realistic nature. The memoir is obviously something different, my version of the truth. At the time Demond was alive, and we were joking about the potential or lack of potential in his life story as a subject for a book, I didn't imagine myself writing about him or any of the other young men in the book. In a way, all of the loss forced me to confront an actual truth, rather than an imagined one. While I can play the benevolent god in a work of fiction, protect my characters—although I try not to—real life has not spared us.
When you spoke with The Paris Review in 2011, you wrote about the influence of classical figures on Salvage the Bones. In Men We Reaped, you say about yourself growing up, "I wanted to be my own heroine." When writing nonfiction, how do you deal with classical archetypes?
There's a theme that runs through the memoir, beginning with the dedication to my brother that states, "For Joshua Adam Dedeaux, who leads while I follow." I'm the older sister, so the expectation was that I would lead. And I did, for many years. I took care of him. I left home first. He led at times, too. He had responsibilities and pressures at home that I never did. My brother and I use to take car rides together through the murmuring southern pines, under a hot, high sun, listening to rap music on the stereo. In this way we traveled together, and I loved those moments. Now that my brother has left us, now that he's died, I can't follow. I don't want to, not yet. But at times I think of him as the heroic traveler, an Odysseus in a dull blue '85 Cutlass. And me, I'm back at home, waiting—and living, too, and writing and enjoying my family—but still, waiting, to hear about his journeys and to ride with him again.
As someone who also came of age in the late 80s and early 90s, the pop culture details definitely hit home for me. What did returning to that time period invoke in you, and how does writing from recalled memory differ from reporting on the lives of others?
On some level, it was really wonderful to revisit that period. Not only because my brother and his friends were still alive, but for the particulars: the books I was reading, the music my family and I listened to, the television programs, the movies we watched together. I'm a consumer of popular culture still: movies and music, particularly. I feel like these are the sign posts of our lives. When we share an era, we collectively share all of these memories, even if the particulars are individualized. So I'm glad to hear the details resonated with you. I've never really written reported nonfiction, and in writing Men We Reaped, I was very lucky to have my sisters, my mother, and several friends around to help me remember some of the details. The challenge for me was less in recalling the stories, more in drawing out the larger themes the stories illustrated.
The "buffer" woods you wrote about in Men We Reaped reminded me of a similar location in Salvage the Bones. To what extent has the area in which you grew up had an effect on the geography featured in your novels?
The geography of my home is the geography of my novels. It will likely be the geography of my next novel, too. When I lived away from home, I longed for it and recreated it in my fiction. Even though I'm now living among those "buffer" woods again, I don't think I'll want my characters to inhabit any other landscape. Those woods, the bayous, the simple, squat houses—this place is part of who I am and part of what I want to explore as a writer. How does place form who we are?
A number of the details in Men We Reaped abound with thematic implications. I'm thinking particularly of your discovery that a town graveyard could eventually supplant a playground. How did you go about learning this?
Yes, that is a sad fact I learned from Lucretia Lott, who is an older cousin. She's actually of my mother's generation, and she told me this fact while we were at the graveyard for the funeral of the young woman who was stabbed to death by her boyfriend. (I mention her death in the book.) In Lucretia's generation, they actually played baseball where my brother's grave is situated. Years later, our local park was the place where we hung out, away from our parents, out under the sky. We sat on the bleachers, talking; we shot goals on the basketball courts; we huddled in our cars, listening to music. This is where our lives happened. And that these same young people who lived and breathed and laughed in that park could occupy it in death, well, that's too great an irony to ignore.
Have you written any fiction since completing Men We Reaped? Have you found that writing a work of nonfiction has changed the way you approach writing as a whole?
Men We Reaped was a tough book to write, on many levels. I struggled to get distance from the subject; I struggled emotionally. It's hard to be in those moments again. While I do get attached to my fictional characters, it's nothing like the cold reality of real-life loss. So getting back to fiction will be a relief. I'm in the early stages of writing my next novel, also set in Bois Sauvage. I must say, after facing the emotional challenges of memoir, I'm really looking forward to thinking about character and plot, rather than my own unhappy story.