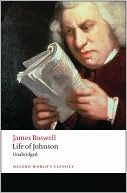 December 13: Onthis day in 1784 Samuel Johnson died, aged seventy-five. The details ofJohnson's last years have been told by James Boswell and any number ofbiographers, but his large personality seems to escape any one perspective.According to Harold Bloom (The Western Canon, 1994), Johnson may bebeyond reach in all ways: "There is no bad faith in or about Dr. Johnson,who was as good as he was great, yet also refreshingly, wildly strange to thehighest degree."
Whether hoping for a view of his goodness or hisstrangeness, society lined up to host or just observe Johnson, despite therisks. Mrs. Thrale, his close friend and the wife of his benefactor, describeseyes "of a light blue Colour … so wild and at Times so fierce,"that "Fear I believe was the first Emotion in the hearts of all hisbeholders." She evidently included herself among the fearful, noting thiscomment from Johnson in response to her grief over her cousin's death inAmerica: "Prithee, my dear, … have done with canting; how would theworld be the worse for it, I may ask, if all your relations were at oncespitted like larks, and roasted for Presto's [her dog's] supper?" ButJohnson was also unpredictable, and when others complained that Mr. Thrale wasa dull conversationalist, Johnson defended him: "His conversation does notshow the minute hand, but he strikes the hour very correctly."
The Thrales provided Johnson with a permanent room at theircountry estate, stocked with clean clothes and a "company wig" sothat he might always be presentable. They also provided him with ballast forhis eccentricities, his loneliness, and his bouts of "disordered"emotions. Mrs. Thrale was close enough to Johnson to be given the knowledge andcare-taking of his secret back-up plan for a mental breakdown: "theFetters & Padlocks will tell Posterity the Truth," one of his journalentries reads.
Mrs. Thrale was in her early forties at this point, Johnsonhis early seventies. When she took up with her daughter Queeney's Italian musictutor, withdrawing her company and her house, Johnson's despair deepened. Thenhis last old friends died, his health problems mounted, and no resolve "topass eight hours every day in some serious employment" seemed enough. Heeven went to a fancy ball: "It cannot be worse than being alone."
---
Daybook is contributed by Steve King, who teaches in the English Department of Memorial University in St. John's, Newfoundland. His literary daybook began as a radio series syndicated nationally in Canada. He can be found online at todayinliterature.com.