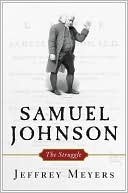 Samuel Johnson was born on this day in 1709 in Lichfield, Staffordshire. Among the annual celebrations in Lichfield on Johnson's birthday is the laying of a wreath at his statue in Market Square. One of the bas-relief scenes carved into that statue commemorates perhaps the most famous story associated with Johnson, his parents, and his hometown. The story turns upon two events in Johnson's life: the first, from his teens, was his refusal to help his father, an impoverished bookseller; the second event, from Johnson's last years, was an attempt to expiate a lifelong guilt for the first refusal. The version of the poignant double tale excerpted below is from a 1900 biography of Johnson by Leslie Stephen:
Many years afterwards, Johnson, worn by disease and the hard struggle of life, was staying at Lichfield, where a few old friends still survived, but in which every street must have revived the memories of the many who had long since gone over to the majority. He was missed one morning at breakfast, and did not return till supper-time. Then he told how his time had been passed. On that day fifty years before, his father, confined by illness, had begged him to take his place to sell books at a stall at Uttoxeter. Pride made him refuse. "To do away with the sin of this disobedience, I this day went in a post-chaise to Uttoxeter, and going into the market at the time of high business, uncovered my head and stood with it bare an hour before the stall which my father had formerly used, exposed to the sneers of the standers-by and the inclemency of the weather; a penance by which I trust I have propitiated Heaven for this only instance, I believe, of contumacy to my father."
Stephen goes on to say that the episode reveals of Johnson "that sacred depth of tenderness which ennobled his character." Many other biographers also find in the story further evidence of what Johnson himself describes as his "morbid melancholy." In his Samuel Johnson (2008), Jeffrey Meyers notes that Nathaniel Hawthorne wrote about the episode several times and used it as inspiration for a key guilt-and-atonement scene in The Scarlet Letter.
---
Daybook is contributed by Steve King, who teaches in the English Department of Memorial University in St. John's, Newfoundland. His literary daybook began as a radio series syndicated nationally in Canada. He can be found online at todayinliterature.com.