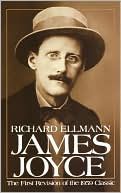 September 9: On this day in 1904, twenty-two-year-old James Joyce moved into the Martello Tower in Sandycove (just outside Dublin) with his friend Oliver St. John Gogarty. Joyce only stayed with Gogarty for a week—there were disagreements, and in October Joyce and Nora Barnacle left for Europe—but their relationship and the Tower setting would become the opening chapter of Ulysses, and the building is now a Joyce museum. The Sandycove Martello Tower was one of many built by the British army a century earlier as a defense system against a Napoleonic invasion—thus Stephen Dedalus (Joyce) is able to joke that Buck Mulligan (Gogarty) pays his rent to "the secretary of state for war."
Richard Ellmann's biography of Joyce tells several amusing anecdotes of life at the Tower. Among them is this account of Joyce and Gogarty strolling the shore in hope of meeting a soft touch or an opportunity for wit:
One day they saw Yeats's father, John Butler Yeats, walking on the strand, and Gogarty, prodded by Joyce, said to him, "Good morning, Mr. Yeats, would you be so good as to lend us two shillings?" The old man looked from one to the other and retorted, "Certainly not. In the first place I have no money, and if I had it and lent it to you, you and your friend would spend it on drink." Joyce came forward and said gravely, as Gogarty afterwards recalled, "We cannot speak about that which is not." Yeats had already moved on, so Joyce had to make his point only to Gogarty, "You see, the razor of Occam forbids the introduction of superfluous arguments. When he said he had no money that was enough. He had no right to discuss the possible use of the non-existent."
Joyce's "snotgreen" and "scrotum-tightening" sea has other literary associations. One nearby area is a popular swimming spot called "Gentleman's Forty Foot Bathing Place." Mulligan took his morning plunge here, the alienated and hydrophobic Dedalus only looking on, and Samuel Beckett learned to swim at the Forty Foot.
---
Daybook is contributed by Steve King, who teaches in the English Department of Memorial University in St. John's, Newfoundland. His literary daybook began as a radio series syndicated nationally in Canada. He can be found online at todayinliterature.com.