Reading recommendations that show both sides of the legendary singer's world.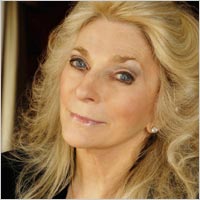 Singer, songwriter, activist, author and inspiration (Stephen Stills immortalized her in "Suite: Judy Blue Eyes"), Judy Collins's arresting, intimate vocal style has become an icon of the era in which folk music spoke for the emerging ideals of a generation. But her artistry has been perpetually evolving since her 1961 debut recording A Maid of Constant Sorrow; her latest album, Paradise, spans decades, showcasing Collins's uniquely sensitive interpretations of songs new and old. Judy Collins graces us with her thoughts about four of her favorite reads.
---
By Flannery O'Connor
"Flannery O'Connor was a Southern writer whose life was going well in New York in the late 1940s. She published her first very successful novel, Wise Blood, and wrote for many of the periodicals of the time. She also accepted an invitation to live with Robert Fitzgerald and his wife, Sally, in Redding, Connecticut, when she was diagnosed with the disease that killed her father. Her lupus progressed quickly and she moved back to her birthplace on a farm called Andalusia in Milledgeville, Georgia, where this book of letters, edited by her friend Robert Fitzgerald, was written. Flannery's letters to her friends in New York are delicious—funny, witty, tender, and constant. They are full of the life of the farm where she and her mother lived, the stories of the chickens (she taught one of their chickens to walk backwards when she was a little girl,) and continue to be amusing. She is writing to her sophisticated, worldly friends in New York and other parts of the world, and at the same time composing her dark, wondrous novels about the South (The Violent Bear it Away, A Good Man is Hard to Find). I found such pleasure in these constant, amusing, and intelligent letters of O'Connor's which kept her connected to New York, where she longed to be, the place of action and friendship as she was more and more unable to even move around among her peacocks and backwards-walking chickens. An inspiring book."
---
By William Manchester
"After finishing the second of his Churchill biographies, Manchester turned to Medieval times and launched us into the fifth Century, as the Romans left the best roads in Europe along with the legacy of cisterns and walls that would stand until today. As the continent of Europe falls into darkness, Manchester trolls those deep shallows, peopled with saints and sinners and serfs, philosophers, painters, poets, and Kings and scholars who are all trying to pull the world from this darkness. He explores Erasmus and his brilliant writing—as well as his fight to keep from being held responsible for Luther's turn from reformer to crazed zealot. This is a book to take everywhere and read at all times of the day and night, and pray for the light that finally came in the Renaissance to keep on shining."
---
By Robert Wilson
"I was late to come to the writing of Wilson, whose language is engaging and almost as addictive as the intricate, tantalizing plots he constructs. In this 1999 book, he juxtaposes a brutal contemporary murder with a portrait of post-revolutionary Lisbon (1974) and the story of an industrialist Nazi whose spider-like reach of intrigue reaches across five decades into the present. As usual with Wilson, I couldn't put the book down but counted my lost sleep as a consolation prize for having to turn the last, savored pages."
---
By James Reston, Jr.
"I stumbled on this wonderfully written book some years ago when my knowledge of the history of Muslim and Christian conflict was slight, though I certainly knew who Richard the Lionheart was and that the Crusades had ploughed through nearly three centuries in bloody confrontation. Reston takes on the story of the 3rd Crusade of 1189, after Saladin has taken Jerusalem and King Richard the First of England has brought his armies to get it back. Saladin, the Muslim leader, fierce and brutal at times as his Christian opponent, was often full of surprising wisdom and grace. These men are pitted in a battle that can never end well, in as wild a ride of blood and guts as you will find anywhere. A terrible story, but important to know if for no other reason than to find out how seemingly intelligent leaders can bring disaster upon so many at such an extraordinary cost."