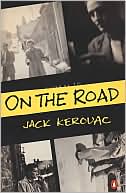 March 12:Jack Kerouac was born on this day in1922, and on this day in 1955 Charlie "Bird" Parker died. In On the Road, Kerouac puts Parker atop hislist of jazz greats, those who were "children of the American bopnight." In "Essentials of Spontaneous Prose," Kerouac goesfurther, describing his own writing as an attempt to catch the rush and pauseof jazz:
No periods separating sentence-structuresalready arbitrarily riddled by false colons and timid usually needless commas—butthe vigorous space dash separating rhetorical breathing (as jazz musiciandrawing breath between outblown phrases) . . . . Not 'selectivity' I of expression but following freedeviation (association) of mind into limitless blow-on-subject seas of thought,swimming in sea of English with no discipline other than rhythms of rhetoricalexhalation and expostulated statement . . . .
Several of Kerouac's poemsin Mexico City Blues pay tribute toParker, ranking him "as important as Beethoven" and god of the jazzclubs: ". . . And soon the whole joint is rocking / And everybody talkingand Charley Parker / Whistling them on to the brink of eternity . . . ." Thefollowing excerpt from Kerouac's TheSubterraneans (1958) shows his spontaneous essentials in action:
. . . and up on the stand BirdParker with solemn eyes who'd been busted fairly recently and had now returnedto a kind of bop dead Frisco but had just discovered or been told about the RedDrum, the great new generation gang wailing and gathering there, so here he wason the stand, examining them with his eyes as he blew hisnow-settled-down-into-regulated-design "crazy" notes . . . returning to the Red Drum for sets, tohear Bird, whom I saw distinctly digging Mardou several times also myselfdirectly into my eye looking to search if I was really the great writer Ithought myself to be as if he knew my thoughts and ambitions or remembered me fromother night clubs and other coasts, other Chicagos—not a challenging look butthe king and founder of the bop generation at least the sound of it in digginghis audience digging his eyes, the secret eyes him—watching, as he just pursedhis lips and let great lungs and immortal fingers work . . . .
---
Daybook is contributed by Steve King, who teaches in the English Department of Memorial University in St. John's, Newfoundland. His literary daybook began as a radio series syndicated nationally in Canada. He can be found online at todayinliterature.com.