Back to the Round Table.
---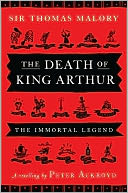 The Death of King Arthur: The Immortal Legend
By Peter Ackroyd
Having previously translated Chaucer's poetry into prose vernacular in The Canterbury Tales: A Retelling, Peter Ackroyd turns his sights on Sir Thomas Malory and Le Morte d'Arthur. Though the characters of Merlin, Lancelot, Guinevere, and Arthur are familiar to practically every reader, they shine anew in this clever adaptation. Malory's genius was to combine the disparate Arthurian romances of the Medieval Era into a single coherent narrative. Here Ackroyd foregoes a literal translation of Malory's Middle English in favor of a captivating tale that brings to life the original's spirit of wonder and adventure.
---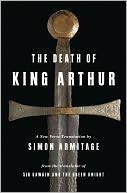 The Death of King Arthur: A New Verse Translation
By Simon Armitage
The acclaimed translator renders one of the greatest Middle English epics, The Alliterative Morte Arthure, with the same panache that he brought to his bestselling version of of Sir Gawain and the Green Knight. Overflowing with gallantry and gore, the book follows Arthur's bloody conquest of Europe all the way to his spectacular fall. The deaths of Arthur's knights, his own demise, and his burial are rendered in poignant language that demonstrates why this version of the legend deserves to be better known.
---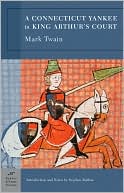 A Connecticut Yankee in King Arthur's Court
By Mark Twain
With its questing company the embodiment of the Romantic hero, the stories of the Round Table were particulartly appealing to the nineteenth-century imagination (see Tennyson's Idylls of the King for a poetic treatment), and nowhere was the impact more bracing than in Mark Twain's satirical tale of time travel and culture clash. When New England mechanic Hank Morgan wakes up in Camelot following a head injury, he's repulsed by the ignorance and superstition of the people. Introducing advances in education and technology, he amasses power and inadvertantly leads the kingdom to war. Medieval chivalry and American skepticism square off — and, typical of Twain, the results are unpredictable and dynamic.
---
By T. H. White
T.H. White takes the legend of Arthur in unexpected directions in this haunting, funny, and ultimately grand modern novel. Beginning with Arthur's boyhood and tutelage under Merlyn, White brilliantly encases a sparkling portrait of the medieval world within the often comic tale of an idealistic young man's journey into adulthood. The characters of Lancelot, Guinever, Gawain, and Mordred are rendered with no less complexity and sympathy — as is that of the backward-in-time Merlyn. As Arthur's doom propels him toward confrontation with the forces led by his illegitimate son, White aims a plea for peace at a century ravaged by two world wars.
---
By Marrion Zimmer Bradley
Arthurian Britain remains irresistable to modern fantasists, and few have been more daring in their revisionary narratives than Marion Zimmer Bradley. The Mists of Avalon sees Camelot through the eyes of the women wielding power behind, alongside, and in opposition to the throne. Here we have Arthur's mother, Igraine; his half-sister, Morgaine; his aunt Viviane, the Lady of the Lake; and his wife, Gwenwyfar rescued from their roles as arm candy and two-dimensional plot devices, lending the familiar myths fresh urgency and relevance. (For a very different yet equally inspired reshuffling of the Arthurian deck, consider Tim Powers' The Drawing of the Dark.)