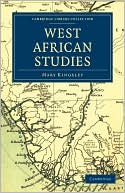 The Victorian scientist-adventurer Mary Kingsley was born on this day in 1862. Kingsley's 1897 bestseller, Travels in West Africa, describes her trips to the region in search of new animal species and old tribal customs — "fish and fetish," as she put it. Kingsley became a popular draw on the lecture circuit in England, speaking as a woman who defied gender expectations and as an advocate for change in England's policies toward Africa, made by "stay at home statesmen, who think the Africans are awful savages or silly children—people who can only be dealt with on a reformatory penitentiary line."

In her preface to Travels in West Africa Kingsley attempts to head off those who might dismiss her for being womanish or unscientific:
I beg to state that I have written only on things that I know from personal experience and very careful observation.… I have endeavoured to give you an honest account of the general state and manner of life in Lower Guinea and some description of the various types of country there. In reading this section you must make allowances for my love of this sort of country, with its great forests and rivers and its animistic-minded inhabitants, and for my ability to be more comfortable there than in England. Your superior culture-instincts may militate against your enjoying West Africa, but if you go there you will find things as I have said.
Independent-minded in all things, Kingsley resisted attempts to enlist her as a champion of the suffragette and "New Woman" movements. She also resisted the advice that she'd better wear pants for her swamp crawls and jungle hikes — leading to this celebrated reflection on her fall into a jaguar pit:
It is at these times you realize the blessing of a good thick skirt. Had I paid heed to the advice of many people in England, who ought to have known better, and did not do it themselves, and adopted masculine garments, I should have been spiked to the bone, and done for. Whereas, save for a good many bruises, here I was with the fullness of my skirt tucked under me, sitting on nine ebony spikes some twelve inches long, in comparative comfort, howling lustily to be hauled out.
---
Daybook is contributed by Steve King, who teaches in the English Department of Memorial University in St. John's, Newfoundland. His literary daybook began as a radio series syndicated nationally in Canada. He can be found online at todayinliterature.com.