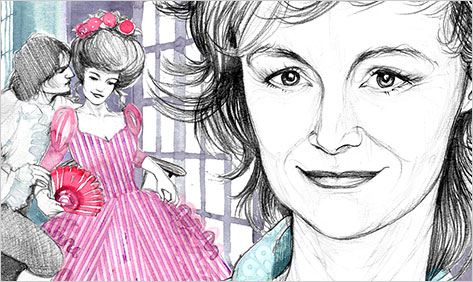 One of Shakespeare?s plays, Titus Andronicus, has such a high and violent body count that when it was produced in Chicago, the stage managers built a lip onto the front of the stage to corral all the blood. I?ve been reading romantic suspense novels in the last month, and this sort of housecleaning challenge comes irresistibly to mind. Last week, my husband caught me sitting in bed reading every other page of a novel, and accused me of "cheating" (he?s a literature professor, so his indignation is provoked by years of undergraduate shortcuts). But I didn?t see Kill Bill for a reason, and I had reached my limit for descriptions of glossy, pooling blood.

In order for a book to qualify as suspense, the heroine has to be in danger. But these days there?s a kind of one-upmanship going on between authors that leads to particularly outrageous, sadistic killers. They?re invariably serial — once is never enough. Garden-variety husbands (the kind who daily kill their wives all over America) hardly qualify. Novels take on the strained air of a Haunted House gone digital, with every scene involving body parts, screams, and gallons of red stuff.

Putting aside unnerved readers like myself, the larger issue with this sort of suspense is that it results in a squeezing of the romance half of this subgenre. We never doubt who the heroine will end up with. Frequently, he?s the only sane man in town. Yet we need suspense in romance: even if there?s only one obvious male, a good romance tantalizes the reader with the possibility that the couple won?t survive together, brewing a different pleasure than that created by the possibility that the heroine won?t survive at all.

The best romantic suspense novels bring together two of our most powerful emotions — fear and desire — and bundle them into a high-oxygen combination that yields pleasure even for those of us who might accept the label of squeamish readers.

Anne Stuart?s Fire and Ice is an odd, utterly brilliant romantic suspense that gives equal time to dread and passion. The suspense: Stuart?s brainy heroine Jilly gets targeted by a splinter group within a Japanese Mafioso family. She?s rescued by a lean, nasty tattooed Yakuza punk with dyed red hair and a motorcycle. Anne Stuart never hesitates to challenge herself. Jilly, a prim graduate student, has no business being attracted to a Japanese killer. But she is — and we are. What makes this a truly notable suspense is that as the coils of various assassination attempts tighten around Jilly and Reno, the pulse of this book remains their combustible affair. Stuart creates a relationship that?s as problematic as the fact that Jilly?s about to be killed: Reno has some serious issues — and he?s seriously rude to Jilly. She needs to learn to stand up for herself before both gangsters and lovers. In a great romantic suspense the heroine?s chance at a future — in love and life — is predicated around her own development as a woman.

Hitting some of the same notes as Fire and Ice, Jordan Dane?s new novel, No One Left to Tell, also centers on a Mafia-linked romantic foil for the heroine. The story opens with a gory killing (body found attached to a crucifix, gaping wound, etc). Her investigation brings Detective Raven Mackenzie together with Christian Delacorte, the head of security for a female Mafiosa. They end up working together trying to pin down a ruthless, sadistic killer. But the real fun is watching Raven assert herself in Christian?s testosterone-laden world. No delicate flower, Raven is used to command: "Kiss me, damn it!" Dane has an intuitive understanding of the need for the romance to balance the menace offered by the killer. As Raven says, "The real danger is what just happened between us. They don?t make an asbestos suit for that kind of combustion."

As with Raven and Christian, romantic suspense novels often thrive on a pairing that pulls two people investigating a crime together. Michele Martinez?s series about a federal prosecutor, Melanie Vargas, brilliantly interweaves Michele?s life as a single mom, her affair with a sexy FBI agent (Dan O?Reilly), and the cases she solves using a combo of grit and intelligence. Martinez?s first book in this series is Most Wanted, which opens when Melanie hears police sirens and heads out into a warm New York night, baby in the carriage. A few minutes later, she?s pushing her way through the police tape to be the first prosecutor on the scene of a tortured, burned-up corpse. The sadistic criminal theme is a common one, but the complicated, thoughtful way by which Martinez causes her heroine to dance toward an affair with an FBI agent is truly interesting. In the equally gripping Cover-Up, the mystery starts with the mutilated body of a female TV reporter. But Melanie?s relationship with the FBI agent, which threatens to destroy her professional relationships, is as complex as the conspiracy she discovers. Martinez doesn?t smooth over these problems with a fantasy about interoffice sex not being hazardous: the romance and the mystery are equally perilous to Melanie?s well-being.

The complexities of a relationship between two people both involved in law enforcement take an interesting twist in Mariah Stewart?s Mercy Street. Mallory Russo has just quit her job as a cop under the cloud of a false accusation and is trying to write a true-crime book. But in the midst of writing doldrums, she?s drawn into working as a private investigator, trying to find two missing teenagers. The cop who replaced her is working on the same case, and they begin falling in love. Here too the suspense is not just due to the crazed-killer-on-the-loose syndrome but comes from Stewart?s nuanced portrayal of a woman, unjustly shunned by her police department, who finds herself in danger of falling in love with the enemy: a cop.

I?ll end with a romantic suspense in which neither the hero nor the heroine are attached to the law or the Mafia. In Colleen Thompson?s Triple Exposure, the main characters are both victims of various crimes in the past. Photographer Rachel Copeland is fleeing explicit, altered photographs of her that have been peppering the Web, leading to an embittering trial and loss of her job. She ends up in the Texas desert, where she meets a loner named Zeke Pike. In this novel the suspense of the romance completely, satisfyingly overwhelms the chills connected with the physical threats, though Thompson craftily peppers in chapters told from the killer?s POV. But the core of this novel hinges on the lovers: can two people, so wounded by events beyond their control, come together? Can they fight defeat and despair to find joy together? I read every page of Triple Exposure, which says something about my interests — but also about Thompson?s skillful portrayal of characters we — breathlessly — want to survive. Together.

After reading stacks of suspenseful novels in the last month, I can promise my readers that I will never leap subgenres to adorn my romances with loving descriptions of rivulets of blood. But I gained a terrific respect for novelists who achieve a balance between suspense in murder and love. They are faced with a double challenge in a short 400 pages: their heroines face emotional and physical danger and triumph in both arenas.

If you love to shiver under the covers, please join us in the Romantic Reads book club for a discussion of romantic suspense! Anne Stuart (author of Fire & Ice) and Jordan Dane (author of No One Left to Tell) will visit the book club on May 19th and May 21st to discuss their tools for terrifying you. Stop in, ask a question or two, and stay to chat about your favorite romantic suspense novels.