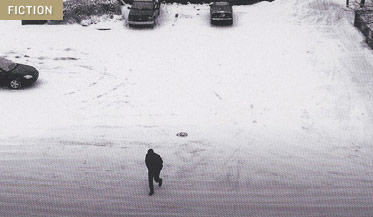 No American novelist loves the dead-end town quite like Stewart O'Nan. In the 15 books that have poured out of him since 1994, he has visited the snowy, forgotten hamlets of upstate New York, and the bombed-out streets of East Liberty, Pittsburgh. He has twice set novels in those most forgotten metropolises, our prisons. Now, as winter approaches, O'Nan peers into a suburban Connecticut Red Lobster restaurant on the last night of its operation. Who knew an all-you-can-eat shrimp buffet could evoke such mournful, Edward Hopper?ish pathos?

It's all in the telling. At the helm of this sinking ship is O'Nan's likable hero, Manny DeLeon, a ten-year-veteran of the Lobster, soon-to-be father, and stickler for protocol. As the tale begins, Manny pilots his big old Buick Regal into the restaurant's empty parking lot. A light drifting of snow has begun to fall, with more on the way. Numbers for the restaurant have been dropping, too, which is why Manny and five other employees of his choosing are being packed off for an Olive Garden in nearby Bristol, Connecticut — another Darden, Inc. restaurant. The rest are being let go. Freed is more like it.

It's a chintzy place, the Lobster, full of Muzak and laminated marlins and bar drinks like the Lobstertini. Yet as Manny flicks on the lights, checks the safe, and inspects the wait station, it's hard not to absorb a flicker of the pride he feels about running it, holding the crew together. One by one, they stumble in: Eddie, the floor man; Roz, the dependable waitress; Ty, the chef; Leron, the line guy; and Jacquie, the other waitress, with whom Manny once had a fling. She now gets driven to work by a star cricket player, while Manny calls home to a new girlfriend, Deena, soon to be the mother of his child.

There are enough back-stories darting among this crew to create some real drama, but O'Nan keeps his focus on the entropic melancholy of a world shutting down. Manny takes it the hardest. For him, it's not just a job setback but a break in the logical chain of events that become the story of one's life — a rupture mirrored by his break with Jacquie and sudden fatherhood with Deena. "He used to marvel at the fact that out of the millions of the people in the world they'd somehow found each other," O'Nan writes from Manny's point of view. "Now looking out at the snow falling on the darkened cars, he thinks it's an even bigger mystery, and, like the Lobster, a waste."

For all the triumph of realism, you don't often see characters work in American fiction — it's too easy to merely imply. Not here. O'Nan has clearly spent some time hugging a vinyl booth somewhere, because you could set up and take down a Red Lobster from the descriptions in this novel: the mixing of biscuits, the choosing of specials, the clearing of the entrance walk with bags of ice melter. It all begins to feel a little pedantic, until it dawns on you that the purpose of these details is to show how a restaurant isn't one person, but rather the sum — and hum — of its working partners.

All this springs into action when the doors open just after noon, and the Lobster's first regular — a retired high school physical ed teacher — strolls in for his coffee and paper and fish lunch. O'Nan captures the mixture of boredom and professionalism, skill and improvisation that ripples through the kitchen. A retirement party swings through, and suddenly the crew is slammed, sending out orders as fast as they can. Just when they get on top of it, a hyperactive child begins throwing up his lunch.

In Down and Out in Paris and London, one of George Orwell's coworkers famously barked, "What is restaurant work? You are carving a chicken and it falls on the floor. You apologize, you bow, you go out; and in five minutes you come back by another door — with the same chicken. This is restaurant work." You won't fund such rakish shenanigans at O'Nan's Lobster. This is, after all, a corporate chain, which O'Nan reveals through the small details. Manny must calculate spillage down to the last ounce. Even the swizzle sticks will be recycled, sent back to some central processing plant and shipped out to one of Darden, Inc.'s many other establishments.

It's impossible to miss the political angle of O'Nan's story, which begins with two frontispiece quotations, one from a poem about unheralded workers, "never in a poem." The other is a bite of statistics from MSN.com, noting that in 2005 Darden Restaurants "raised its outlook and expects full year 2005 diluted net earnings per share growth in the range of 22% to 27%." In other words, far away, at the barely visible end of a decision made to increase shareholder profits, there's a room of workers like the cast of this novel, made to pack up, move on, or just go home, so people who never eat there can continue to make money.

This is not idle politicizing. Eighty percent of the U.S. economy comes from the service sector now, which means that in some ways, the restaurant novel is to today what Willa Cather's and John Steinbeck's novels were to America in the 1930s, '40s, and '50s. Kiran Desai set a large part of The Inheritance of Loss, her 2006 Booker Prize winner, in Indian restaurants in New York City. Monica Ali's new novel will be set in a hotel restaurant kitchen in London. These are the places immigrants wind up shoulder-to-shoulder with the working poor when they are new to a country.

O'Nan doesn't make too much fuss over the melting-pot around the All-Clad pots. He simply allows the differences between his characters to rise up through their voices. He's more concerned with the dignity that can be gleaned from an honest day's work, and the sorrow which descends, mercilessly and mindlessly, like the falling snow, when those jobs are taken away. In the novel's saddest scene, Manny runs out across the street to the rapidly emptying mall to buy Deena a Christmas present from one of the remaining stores. "His mission is simple," O'Nan writes. "Buy something she will love, and love him for buying." It's an impossible quest, but one that will get a little harder, the day after this novel closes.