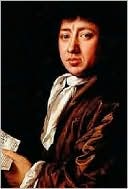 May 26: Samuel Pepys died on this day in 1703, aged seventy. A tailor's son, Pepys rose to a position of relative prosperity and power — Secretary to the Admiralty, an M.P., a man who knew royalty, and one rich enough that when highwaymen stopped his coach in 1693 he had to hand over his silver ruler and gold pencil. His prize possession was a library of 3,000 volumes, most of them leather-bound to order, all displayed in impressive oak cases, these "finely gilded and sash-glass'd; so deep as to carry two Rows…. The Books so well order'd that his Footman (after looking the Catalogue) could lay his finger on any of 'em blindfold."
This envious description, from the 1702 diary entry of a fellow bibliophile who had come to see Pepys and borrow a few of his books, does not mention the library's most curious feature: it was catalogued by size, from smallest to largest book, with blocks of wood custom-cut so that all rows showed level at the top. This is still the arrangement today at Magdalene College, Cambridge, to whom Pepys bequeathed his library — without knowing (or probably wanting, given its frankness) that his own Diary, in his original shorthand, would become the prize of the collection, and the Age.
Citing his deteriorating eyes as cause, Pepys made the final entry in his nine-and-a-half-year Diary on May 31st, 1669, describing the day as an early death:
And thus ends all that I doubt I shall ever be able to do with my own eyes in the keeping of my journall, I being not able to do it any longer…. I must forbear; and therefore resolve from this time forward to have it kept by my people in longhand, and must therefore be contented to set down no more than is fit for them and all the world to know…. And so I betake myself to that course which [is] almost as much as to see myself go into my grave — for which, and all the discomforts that will accompany my being blind, the good God prepare me.
---
Daybook is contributed by Steve King, who teaches in the English Department of Memorial University in St. John's, Newfoundland. His literary daybook began as a radio series syndicated nationally in Canada. He can be found online at todayinliterature.com.