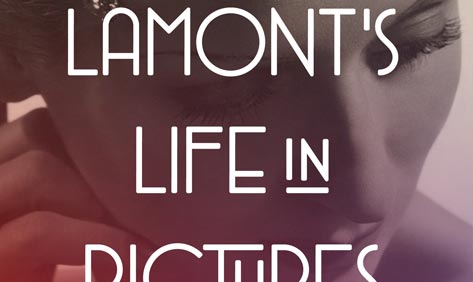 Emma Straub's much-anticipated first novel, Laura Lamont's Life in Pictures, is a shadow play about the Golden Age of Hollywood, its flickering images made hazy by time and distance. An epigraph neatly clarifies Straub's approach to her subject: she reprints the famous line from the beginning of F. Scott Fitzgerald's The Last Tycoon (still the best of all Hollywood novels, even if it remained only half finished at the time of Fitzgerald's death in 1940) claiming that Hollywood can be understood, "but only dimly and in flashes."

By invoking that familiar phrase, Straub is assuring her readers that she recognizes but remains undaunted by the difficulty of attempting to join the ranks of Hollywood novelists, many of whom — like Fitzgerald and unlike Straub — were seasoned insiders who worked at the studios as screenwriters. She may also be asking for readers' leniency if her first try at novel writing should succeed only fleetingly. What she's offering, as the double meaning of her title suggests, is a Hollywood life "in pictures," captured intermittently in the flash of a narrative camera.

So she plunges, quite gamely, into an ambitious story that begins in 1929 and ends in 1980, roughly around the time the author was born. In the book's opening pages, Elsa Emerson is the youngest of three blonde sisters growing up in Door County, Wisconsin, where her parents run a successful summer theater. At age nine, she plays her first walk-on role as a flower girl in the converted barn that serves as the Cherry County Playhouse, falls in love with the applause, and resolves to become an actress.

Straub conjures these early scenes convincingly, showing vivid glimpses of the summer-camp arcadia of this family enterprise and its surrounding acres of lakeside woods and cherry farms. She wastes no time moving the action along. A grievous family tragedy marks the end of Elsa's childhood idyll, whereupon she learns to rely on "the power of pretend": "Even if she wasn't happy on the inside, the outside could be something else entirely."

At seventeen, Elsa marries an ambitious young fellow actor, and they board a bus headed toward Hollywood. Less in love with her new husband than with the idea of her glamorous future, "all Elsa cared about was arriving. She was going to step off the bus and into the waiting arms of the world." To Straub's credit, in context these lines manage not to seem trite, even if we've already read these kinds of sentiments a thousand times.

The novel does not dawdle, either, in its snapshots of Elsa's life after she arrives in Depression-era Los Angeles. Playing house while her husband pursues bit parts at the studios, she gives birth to a baby girl, and then another. At a party she meets Irving Green, the wunderkind producer at the Gardner Brothers studio, who sets about launching her acting career, giving orders to turn her into a brunette and changing her name to Laura Lamont. At age twenty-two and already a rising film star, she divorces the less successful young actor and begins a romance with Green, whom she eventually marries.

Most of the novel's supporting characters are near-likenesses or composites of Golden Age Hollywood luminaries: Green is a ringer for Irving Thalberg, the visionary MGM producer and inspiration for the grand-scale personality of Monroe Stahr in Fitzgerald's The Last Tycoon. Louis Gardner, the chief of Gardner Brothers, is a blend of MGM boss Louis B. Mayer and one or two Warner brothers. A costume designer with distinctive eyeglasses and a "severe haircut" recalls Edith Head, while Laura's best friend, Ginger, is a redheaded comedian à la Lucille Ball. The resemblances to such already well known personalities guarantee these characters less vitality rather than more, creating as much distance from readers as a fuzzy fifth-generation reprint does from the original. This is a fascinatingly risky choice for Straub, whose dedication to a photoplay-like narrative, presented dimly and in flashes, is nothing if not consistent.

Laura Lamont herself has no specific real-world model, though some of her behavior hints at a touch of Rita Hayworth here, a bit of Ava Gardner there. Her conflicts have little to do with the usual movie-star problems of managing one's fame or feeding an always-hungry ego. Instead she struggles to integrate discordant parts of her psyche: the "good Wisconsin girl" and the sophisticated celebrity; her devotion to her children — in addition to her two daughters, she and Irving have a son — and her allegiance to her career. Over and over, Laura refers anxiously to this fragmentation, but none of those personality facets has any depth, and if there are emotional reservoirs beneath these surfaces, they remain untapped. This superficiality was a hallmark as well of Straub's 2011 story collection, Other People We Married, whose characters seemed to glide around in various states of suspended bemusement, and whose tone is best described as wryly inoffensive.

In writing a novel of dimly flashing archetypes, Straub pushes away rather than encourages the reader's sympathies. What's so interesting here is that she does it on purpose. She's suggesting that any new engagement with old-time Hollywood, that cavernous echo chamber of clichés, is just about impossible. So she offers instead a contact sheet of strobe-light tableaux, many of which are quite memorable. In one, Laura's daughters play on an empty soundstage while Irving tracks their little skits with a doting yellow spotlight; in another, after a premiere, photographers snap a picture of Laura leaving the theater alone, "her white stole dragging behind her like a child's security blanket."

To write fiction about Hollywood is to get it wrong. Christopher Isherwood's Prater Violet and Peter Viertel's White Hunter, Black Heart, both excellent novels about filmmakers that still jump off the page, are not even set in Hollywood. Daniel Fuchs and Gavin Lambert wrote brilliantly incisive stories, collected in The Golden West and The Slide Area, but they are sidelong glances, not the whole equation. Even Fitzgerald, who came closest, died before he could finish. Emma Straub gets it wrong, too, her prose becoming more shopworn as the novel progresses, its energy seeming to flag. Yet her novel is one of the more thought-provoking efforts among all the Hollywood failures, asking questions about the boundaries of originality that probe beneath its glossy surface and remain tantalizingly unanswered.