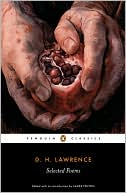 March 2: On this day in 1930 forty-five-year-old D. H. Lawrence died in Vence, France of tuberculosis. Lawrence was so scoffing of medical (or any other) science that he refused to name or accept his condition, or to submit to any of the "magic mountain" treatments recommended to him. Having discharged himself from his French sanatorium, he spent his last months trying to complete various writing projects, and to prepare for what he knew was imminent. The following lines are from "The Ship of Death," one of his last poems:
Have you built your ship of death, O have you?

O build your ship of death, for you will need it.

The grim frost is at hand, when the apples fall

thick, almost thundrous, on the hardened earth.

And death is on the air like a smell of ashes!

Ah! can't you smell it?
Given his personality and his views on reincarnation, Lawrence was buried without ceremony in Vence, a simple phoenix symbol done in seashore pebbles marking the spot. Given his wife's personality, what happened next became so bizarre as to have been eventually taken up in a television episode of "Ripley's Believe It or Not." Five years after Lawrence's death Frieda dispatched her new partner to Vence with instructions to exhume and cremate Lawrence's remains, bringing them back to their Taos, New Mexico ranch. Freida's lover either did this, or did what he later drunkenly told friends he had done: dutifully collected the ashes in Vence, dumped them somewhere outside Marseille rather than face the bother of transport, and then filled Freida's fancy urn with ersatz ashes. Meanwhile, back at the ranch, Frieda's plans were under attack by others who had been close to Lawrence; tired of the dispute over whether the ashes should be scattered (their view) or enshrined (Frieda's view), she is said to have dumped whatever her lover had delivered to her into a batch of cement being used to build the memorial altar, saying, "now let's see them steal this!" Whether in the presence of D. H. Lawrence or not, the elaborate dedication ceremony went ahead as planned — Pueblo dancers, a Mexican orchestra, a crowd of strangers (Frieda had put an open invitation in the Santa Fe paper) eating hot dogs and drinking homemade wine.
---
Daybook is contributed by Steve King, who teaches in the English Department of Memorial University in St. John's, Newfoundland. His literary daybook began as a radio series syndicated nationally in Canada. He can be found online at todayinliterature.com.