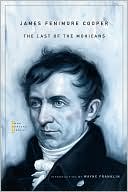 February 4: JamesFenimore Cooper's The Last of theMohicans, the second and most popular of his "Leatherstocking Tales,"was published on this day in 1826. Later that year Cooper moved to Europe,where he lived for the next seven years. This fondness for cultured Europeanliving, balanced against a reputation based on a glorification of the Americanfrontier, caused some to raise eyebrows. In D. H. Lawrence's Studies in Classical American Literature(published in 1923, just as Lawrence was enjoying his own first taste offrontier living in New Mexico), Cooper is described as one who "did solove seeing pretty-pretty, with the thrill of a red scalp now and then":
…Fenimore, lying in his Louis Quatorze hotel in Paris,passionately musing about Natty Bumppo and the pathless forest, and mixing hisimagination with the Cupids and Butterflies on the painted ceiling, while MrsCooper was struggling with her latest gown in the next room, and the d'jeuner was with the Countess ateleven….

Men live by lies.

In actuality, Fenimore loved the genteel continent ofEurope, and waited gasping for the newspapers to praise his WORK.

In another actuality he loved the tomahawking continent ofAmerica, and imagined himself Natty Bumppo.

His actual desire was to be: Monsieur Fenimore Cooper, le grand ecrivain americain. Hisinnermost wish was to be: Natty Bumppo.

Now Natty and Fenimore, arm-in-arm, are an odd couple….
Granting that "perhaps my taste is childish,"Lawrence goes on to praise the Leatherstocking books for "some of theloveliest, most glamorous pictures in all literature":
The raw village street, with woodfires blinking through theunglazed window-chinks, on a winter's night. The inn, with the rough woodsmanand the drunken Indian John; the church, with the snowy congregation crowdingto the fire. Then the lavish abundance of Christmas cheer, and turkey-shootingin the snow. Spring coming, forests all green, maple sugar taken from thetrees: and clouds of pigeons flying from the south, myriads of pigeons shot inheaps; and night-fishing on the teeming, virgin lake; anddeer-hunting.

Pictures

Alas, without the cruel iron ofreality….
But Lawrence is on the side of the frontier: "One dayAmerica will be as beautiful in actuality as it is in Cooper. Not yet, however.When the factories have fallen down again."
---
Daybook is contributed by Steve King, who teaches in the English Department of Memorial University in St. John's, Newfoundland. His literary daybook began as a radio series syndicated nationally in Canada. He can be found online at todayinliterature.com.