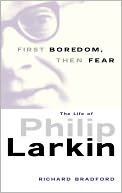 On this day in 1922, Philip Larkin was born in Coventry, England. Larkin's reputation as one of the preeminent poets of his generation is based on poems such as "I Remember, I Remember," in which a man returning to northern England by train barely glances at the city of his birth:
"Was that," my friend smiled, "where you 'have your roots'?"
No, only where my childhood was unspent,
I wanted to retort, just where I started.

By now I've got the whole place clearly charted.
Our garden, first: where I did not invent
Blinding theologies of flowers and fruits,
And wasn't spoken to by an old hat.
And here we have that splendid family

I never ran to when I got depressed,
The boys all biceps and the girls all chest….
Larkin's mordant tone and accessible verse became so popular that he was offered the poet laureateship shortly before his death in 1985, a position he characteristically declined. But since the publication over the next decade of his Collected Poems, his Selected Letters, and a biography by Andrew Motion, Larkin has come under fire. Finding racism, sexism, ageism, and just routine trench coat perversion, some critics now beheld "the sewer under the national monument Larkin became." Many readers were charmed by the idea of the bespectacled bachelor librarian deflating the right balloons (romantic love, the good old days, other people's egotism), and they could accept his use of the right four-letter word, but his fans now had to account for poems with the wrong ones, and letters with worse—"All women are stupid," for example.

The most recent biography of Larkin, Richard Bradford's First Boredom, Then Fear (2005), argues against the Larkin bashing. Pointing out that "virtually all indications that Larkin was a misogynistic, intolerant racist occur in his letters to Colin Gunner and Kingsley Amis," Bradford asks two questions:
Can we claim to know the real Philip Larkin? He played different roles for different people. The personae selected for particular scrutiny and condemnation are, post-1992, the ones which accord with the image of him as a loathsome archetype of Englishness. There are many others, and all are curious combinations of candour, exaggeration and self-parody. Just as significantly, why should we assume that our appreciation of his poems will be tarnished by our knowledge of Larkin as alien from our, in Martin Amis's words, "newer, cleaner, braver, saner world."
---
Daybook is contributed by Steve King, who teaches in the English Department of Memorial University in St. John's, Newfoundland. His literary daybook began as a radio series syndicated nationally in Canada. He can be found online at todayinliterature.com.