Following the welcome announcement of Leonard Cohen's new concert tour (dates are available on the singer-songwriter's official website and tickets go on sale May 18th at noon; buy them here), we recalled Robert Christgau's column for the Barnes & Noble Review covering Cohen's 2009 tour and subsequent CD/DVD: Live in London. What follows is an excerpt: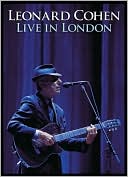 "Rock and roll has produced a surprising bounty of old men with something to say. Bob Dylan, Neil Young, Lou Reed, Randy Newman — rather than credibly courting eternal youth a la Mick Jagger and Paul McCartney, these seniors explore the aging process with an edge that's been rare in pop music, where nostalgia is such a staple. Cohen fits this paradigm, with two significant differences. The first is that he's rock and roll only by association. He's really a Gallic chansonnier, in it for the lyrics rather than the liberating musical intensity even Dylan has made a vocation. The second is that he was always old — older than Elvis and also more sophisticated, the kind of artist you'd look up to at 24 only to find yourself surprisingly, alarmingly entering his age group four decades later."
You can read the full review here.
Cohen's most recent album, Old Ideas, is a return to form for the balladeer, exploring signature themes of lust and longing, spirituality and struggle, all overlaid with a droll sense of humor as familiar as his somber voice.
— The BNR Editors