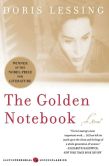 On this day in 1962, Doris Lessing's The Golden Notebook was published. Still the bestselling of her two dozen books, Lessing has described it as an attempt "to break certain forms of consciousness and go beyond them"; she has also said that the novel became "an albatross" hung around her neck by a feminist misreading. In this excerpt, Anna Wulf (the autobiographical heroine, writer of the notebooks) talks with her friend, Molly, about how others perceive the two of them only superficially, as almost interchangeable people:
"When we're so different in every way," said Molly, "it's odd. I suppose because we both live the same kind of life — not getting married and so on. That's all they see."

"Free women," said Anna, wryly. She added, with an anger new to Molly, so that she earned another quick scrutinising glance from her friend: "They still define us in terms of relationships with men, even the best of them.'"

Molly said at last, sighing: "Free. Do you know, when I was away, I was thinking about us, and I've decided that we're a completely new type of woman. We must be, surely?"
In volume two of her autobiography, Walking in the Shade, Lessing elaborates on her regret that the novel, planned "so coolly" but read "hysterically," became the "Bible of the Women's Movement":
That novel had a framework made by thinking. The thought was to divide off and compartmentalise living was dangerous and led to nothing but trouble. Old, young; black, white; men, women; capitalism, socialism: these great dichotomies undo us, force us into unreal categorisation, make us look for what separates us rather than what we have in common…. That is why I have always seen The Golden Notebook as a failure: a failure in my terms, of what I had meant. For has this book changed by an iota our tendency to think like computers set to sort everything — people, ideas, history — into boxes? No, it has not.
In a newspaper article just after her 2007 Nobel Prize, Lessing was still shaking her head: "So I became 'a feminist icon.' But what had I said in The Golden Notebook? That any kind of singlemindedness, narrowness, obsession, was bound to lead to mental disorder, if not madness."
---
Daybook is contributed by Steve King, who teaches in the English Department of Memorial University in St. John's, Newfoundland. His literary daybook began as a radio series syndicated nationally in Canada. He can be found online at todayinliterature.com.