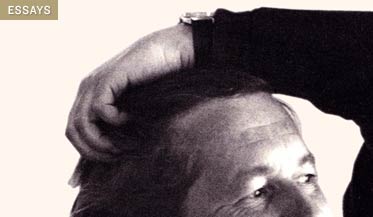 Essay by Sheri Holman

I was born sixty miles down the road and forty years after William Styron into a world remarkably unchanged. Jim Crow had been legally abolished in Virginia but maiden aunts still pointed out with solemn reverence the weed-like Confederate violets that straggled across the yard At eight I memorized rebel victories and had a confederate flag hanging in my bedroom.

Like Styron, I moved north in my late adolescence, never to return, my bags packed with all the belligerence and feelings of fraudulence so many of us carry around when we rebel and leave home, wherever home is. What I knew of my new adopted borough of Brooklyn, I'd received not through Malamud or Mailer, but from Styron's Stingo, and my first glimpse of the Brooklyn Bridge filled me with both awe and an unsettled feeling that this was where people came to flirt with suicide. In my mind it was inextricably linked with another northern bridge where a prototypical — if fictional — displaced southerner took his own life, weighted down with irons in his pockets. For years the Anderson Bridge in Cambridge had affixed to it an epitaph: "Quentin Compson, drowned in the odour of honeysuckle. 1891-1910."

And now I find myself holding a different sort of epitaph in the form of a posthumously published collection of essays, Havanas in Camelot, most written by Styron in the years after the publication of Darkness Visible, his watershed book on depression, and collected in the months leading up to his final illness. Anticipating Prozac Nation and the slew of mental illness confessionals that followed, Darkness Visible, which allowed an entire generation of aging men to claim their vulnerability, was alternately transcendent and guilt-wracked, brave and peevishly na?ve. Those powerful contradictions set the tone for the essays that make up Havanas in Camelot.

More than journalism or fiction, the personal essay as a form invites us directly into the writer's psyche both by its emphasis on the selection of subjects and the manner in which the author chooses to engage with them. The collection of already published work invites the further question: Why these now? What is an author reaching for? I don't believe anyone would make the claim that the essays in this slender volume stand with Styron's most ambitious or successful work. And so why read them? Are we to take them, as one reviewer has suggested, as a life lived in good company? Or are we to recognize Styron's troubled reflection as he stood, at the end of his life, leaning over the bridge?

Originally published in The New Yorker, The Paris Review, and Egoiste, these pieces are meditations on smoking cigars with JFK, drinking whiskey with James Baldwin, touring a Chicago prison with Terry "Tex" Southern. There are; disquisitions on embarrassing medical near-misses — the longest revisits the false diagnosis that inspired his play "In the Clap Shack," and the shortest graphically details some minor prostate trouble anticlimactically cleared up with a pill. Throughout, the author seems always to be reaching for something external: jockeying for position, finding identity through company, trying to identify those (or those parts of him) that are authentic, that have access to the Truth as opposed to those that are mistaken and must be dismissed.

"Of the many dreadful manifestations of the disease, both physical and psychological, a sense of self-hatred — or, put less categorically, a failure of self-esteem — is one of the most universally experienced symptoms." Styron wrote in Darkness Visible, and the failure of self-esteem thrums through these pieces like a mournful bass note. In the title essay, John Kennedy and his inner circle smoke embargoed cigars, while Styron on the outskirts, clings to his "miserable cigarettes." in "A Case of the Great Pox" with forced humor, he details the humiliation of being placed in a syphilis ward, forced to wear a yellow V for Venereal, held prisoner by an evil, all-powerful military doctor. There is a self-lacerating, yet self-serving quality to the way he tells the story, as in his encounter with a second army physician who recognizing a misdiagnosis, releases Styron from the crippling shame of syphilis: "I sensed a comradely affinity," he writes of the second doctor, "and it was denunciation enough, a spiritual handclasp.": A kind of medical absolution by the "good" doctor is required to let Styron down from the cross upon which he's hung himself.

Perhaps the most disturbing note struck is Stryon's casual sexism and jarring Negro-speak in an essay published in 1996. ("Dese is two writer gentlemen," he has a black prison guard say, "Doin' de VIP tour." More benign is the frequent presence of straightforward envy: In Paris Styron and Terry Southern sit "smirking" at the faux-Hemingway "poseurs." At JFK's White House, Styron and the other "scullions" lit up their cigarettes, "I noticed with my usual sulkiness and envy that many gentlemen at the tables around the room had begun to smoke cigars; among them was Kennedy…" There are those who belong and those who do not, and while Styron is in agony to identify where he and others are on either side of that divide, he cannot seem to let go of the Divide itself.

Here we get at that particular brand of depression most familiar to self-exiled intellectual Southerners like Styron and Quentin Compson and myself, anyone reared in the conservative tradition who has had the bad manners to leave home. For someone caught up in this anxiety, rebellion is less the throwing off and more the exchange of shackles. We are all too conscious of the self-delusion and reliance on absolutism that propelled our ancestors' revolt; the cult of victimization made possible only by an aggressive rejection of self-examination. How can one be both victim and perpetrator? One must be one or the other. Real rebellion for a person raised in this atmosphere becomes the perpetual examination and re-examination of ones motivations, accompanied by the knowledge that to rebel is also to be heir to defeat, humiliation, and substitute enslavement in line with Jim Crow.

Rejecting his family's expectations, coming north to pursue a career in writing, Styron considered himself a rebel and as such entitled to speak as one. But the world did not see him as such. It recognized and rewarded him and he both craved this admiration and was tortured by it. As a "rebel" Stryon saw himself as both hero and traitor, and in these essays, at least, we see him actively at war, always conscious of who is to be left out, fearing always, it will be him, obsessed with sorting and ranking, inclusion and exclusion. In fiction, Styron was free to farm out his conflicting selves to a multitude of characters, and it is to Styron's credit that he challenged himself, and even in his failures, he is illuminating. What makes these essays often frustrating is that he seems to want too much credit for the attempt; he can't completely let go of his desire to be liked and seen as a good guy, to have his hard-won truth be The Truth.

"The collecting of a writer's pieces is a difficult business," wrote Anatole Broyard in an 1982 review of William Styron's first book of personal essays This Quiet Dust. "While he sees each one in a rich context of personal associations that give it a universal — even an eternal — application, the reader of such a collection is likely to look upon it with a narrower eye and may even be rude enough to wonder why the author saw fit to preserve and perpetuate such occasional writing." Twenty six years after Broyard posed the question, it's still too easy to wonder, and I wish his publisher had not thrown these essays so naked into the world. They could have benefited greatly from context, biographical and psychological. They do not stand up as the great explorations of personality and prejudice the author would like them to be; they are valuable not so much as an examination of the prejudices Styron could articulate, but as a fascinating glimpse into those he could not. They read like a man reaching for the strength to stay on the right side of the bridge.